The genius of Bernard Brunon and Jade Dellinger's To The Trade exhibit at DiverseWorks is in adapting the trade show genre, designed to display information on business products and services, to present the activities of artists whose work isn't primarily visual. True to the trade show genre, freebies abound. Moving from one booth to another, I collected a pencil, chip clip, business cards, a button, keychain, and free magazines to pile on top of the five pounds of printed matter I had already stuffed into my complimentary tote bag.
Some of the fifteen participating artists and organizations were more gung-ho hucksters than others. The loudmouth woman representing
®™ark
and the nerdy Lubbock guys at
Fal-Con
put on the best shows, literally grabbing attention for their booths with gregarious nonstop pitchmanship. By contrast, booths representing
Zingmagazine
and
Gaylen Gerber
were unstaffed. Gerber's booth held two of his gray backgrounds with other people's art on them, like a mini-gallery one would see at an art fair. The booth clearly showed what he was all about, but was out of step with the zesty hubbub which made the other booths exciting. Likewise, trendy Zingmagazine's booth was empty, but effective: stacks of unguarded $12 art magazines for the taking. Grab now, read later.
Some booths were cryptic. Reading the literature about
globalartobservatory, inc.
,
Local Access
, and Artworm, Co. left me as puzzled about these organizations" aims and activities as I was when I began. High-concept art attracts people who enjoy obfuscation for its own sake. But confusion is boring, whether it's art or a Houston Metrobus schedule, and there was plenty else to look at.
The novel format of the show pulled several artists from their studios and computer screens, unused to and unsure of their new roles as salesmen. [The Thing], a web publishing service, had his desk turned away from the room, and let his website, displayed on the desktop computer, do the talking. Paula Hayes of Story explained her flexible landscape designs with uneasy self-consciousness, more at home in her studio than on display.
Some booths were in dead earnest about selling their services, like
That's Painting Productions
, the Houston commercial painting firm,
Lucy Orta
's 70×7 catering service, and ®™ark, who were soliciting investment in their ongoing prank-art projects.
Soussan Ltd.
, a museum supply house in France, was too far from home for practical sales but displayed an outré blue trashcan, emphatically labeled "THIS IS NOT A WORK OF ART THIS IS A TRASH CAN" just to stir up trouble.
Some of the presenters were in dead earnest, some spoofing. Rirkrit Tiravanija's Globo, a dada power tool accessory for collecting used drywall screws, had an entire booth devoted to proclaiming its dubious merits. A video showed the Globo device in action, while a salesperson passed demo units around the audience. Only a tad more bizarre and useless than the sham-zami or pocket fisherman, the Globo pitch failed only at the close: if they"d had one for sale right then and there, I'd have bought it.
lacked in friendliness, …it made up for in excellent whiskey"]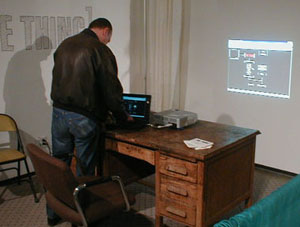 Globo was typical: business style but not business substance. Thank God the artists in To The Trade are not especially slick self-promoters, nor do they have the obscene amounts of money corporations spend on their trade show displays. Big do's like the Offshore Technology Conference in Houston, or the Consumer Electronics Show in Las Vegas make To The Trade look like a kids" lemonade stand: sweet, sincere and, despite a bittersweet ironic crust, fundamentally optimistic about the ability of individuals and small organizations to make a difference.

All images are courtesy the artists and DiverseWorks.

Bill Davenport is an artist and writer and was one of the first contributors to Glasstire.