Walking into the Hudson (Show) Room of ArtPace one sees 36 somewhat randomly hung 15 x 13 inch panels of handmade paper.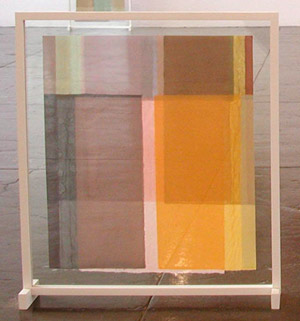 Framed simply between clear panes of glass, the panels themselves are made of smaller squares of overlapping, multi-colored paper pressed together while they were still wet. The result is a patchwork-style grid in an expansive array of hues and tones. As an installation, one encounters these 36 panels at various heights and in different groupings spread throughout the gallery (a few are placed on the ground, functioning as low, freestanding objects in the middle of the gallery floor).
The light in the Hudson (Show) Room, aided by several large windows, invigorates the matte-like quality of the paper-pulp with an understated radiance. The colors are too many, in too wide a range to describe apart from being very, very pleasant. To experience them all together is much like the experience of picking paint samples where the decision process is somewhat inhibited by the many possibilities. This sort of chromatic over-stimulation translates into the larger installation of the panels, making it difficult to isolate a single one as being more or less remarkable than the others. In that sense, the work seems to be as much about sameness as it is about differentiation.
Originally Hodges made 3 large-scale 60 x 40 inch paper panels by placing the individual squares next to each other in a conscious and deliberate exploration of color relationships. As they were cut into the smaller 15 x 13 inch sheets and placed throughout the gallery, the piece was expanded to suggest larger themes of separation and attraction. The title Returning perhaps suggest the act of the smaller cut panels re-righting themselves into their original whole. However, on this note, the piece has its limitations. The gallery space seems swallow the work and the random placement of the panels feels like an attempt to consider the entire space, more for the sake of the space than the work itself.

Images courtesy of the artist and ArtPace.

Michael Velliquette is an artist and Co-Founder of The Bower, an artist-run exhibition space in San Antonio, along with Joey Fauerso and Leslee Fraser. He is also the Assistant Director of Finesilver / FYI in San Antonio.