Peat Duggins is making drawings that read like storyboards, sculptures that seem like film props, and a video that animates part of one installation and projects it, drive-in movie style, for another. Comics easily cross over from static cartoon to animation to live action, and the genre provides Duggins with a set of conventions that he alternately exploits and transgresses in The Moment That Changed My Life Forever.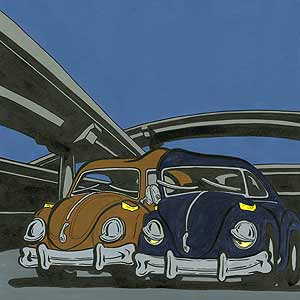 For the show, he creates a universe parallel to ours populated by driverless Volkswagen Beetles under the influence of two mechanical politicians who can only see or hear themselves. In true comic book fashion, a nameless, faceless architect (the artist, perhaps?) manipulates the entire cast of characters from behind a large desk overlooking the highway system that the VWs call home.
The story unfolds at Art Palace in twenty gouache and watercolor drawings that are reproduced in a slick exhibition catalogue published under the aegis of Okay Mountain Press, the print division of a gallery recently opened by Duggins and seven other artists in East Austin. The VW is perhaps the most anthropomorphized of cars, and Duggins shows off its full emotional range through his expert rendering of expressive headlights, bumpers, and windshield wipers. The book starts at sunset on a shadowy suburban strip. Cut to dusk in an abandoned Safeway parking lot illuminated by two giant light poles, where a parked red VW is soon joined by a blue one. As darkness falls the two cars snuggle against the backdrop of an empty freeway, setting off a chain of events that eventually brings on the demise of this dystopic fantasy world. The next page announces, "This is the moment," and in what follows rival gangs of VWs — red, orange, and yellow versus green, blue, and purple — rumble around the freeway, smashing each other up. Duggins" social and political commentary would seem to be more in the vein of Jets against Sharks than red states versus blue states, although what comes next serves to muddy the waters of such easy distinctions.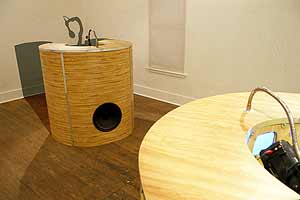 A debate begins between two lecterns outfitted with video and sound equipment, which Duggins recreated in three dimensions for Art Palace's main gallery. The laminated wood podium ironically called the Visionary is embedded with a monitor that casts a blank stare at an identical structure featuring a buzzing speaker. This monitor is hooked up to a video camera aimed at a tiny TV screen fit into the inside of the lectern, creating a feedback loop mirrored in the Orator's similarly contrived sound system. The installation is pretty much inert compared with the speakers" star turn in an animation projected in a second installation out back. Cast-plastic cars from both sides of the color wheel gather around a large screen set up in Art Palace's gravel-filled backyard. A corrugated plastic construction looms overhead in imitation of a highway overpass, and the whole thing glows, along with the cars, but only if you catch the exhibition after dark. Evenings are also the only time you"ll see the animation, a broadcast of the debate going on inside the gallery. Unless you've scrutinized the catalog, however, this debate's subject probably will be a mystery. There is no sound. The drawings are of little help — there wasn't room for the whole lot, even with a few pieces pinned to the wall near the bathroom. By repeating a nearly incomprehensible debate three times over, Duggins may be lambasting the current state of U.S. politics. Yet judging from the reactions of a few other gallery-goers, I'm not sure the message really carries.
The Moment That Changed My Life Forever is billed as a prequel to The Battle of Hickory Ridge, Duggins" 2004 exhibition at The Fresh Up Club in Austin. This show also featured an installation and a series of drawings, which depict an architect's plans for a new suburban community that Duggins built a small-scale version of in the gallery. Nine blimps, ten planes, fifty houses, and one hundred cars joined in a slightly ridiculous and totally surreal fracas that turned the architect's presumably well-intentioned plans into a complete fiasco. The architect's desk sat at the head of the gallery, as if the installation beyond were a model that had taken on a mind of its own.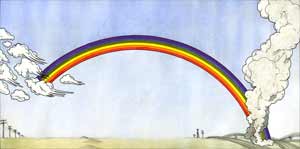 The architect's desk is also the subject of Duggins" contribution to 22 to Watch , the Austin Museum of Art's triennial exhibition of emerging and under-recognized artists from the city and surrounding area (currently on view at The Dallas Contemporary through June 10). Duggins expanded the desk installation from its earlier incarnation at FUC to include a light box and a more sophisticated overhead fixture. Although he didn't recreate the entire model of Hickory Ridge, a set of framed drawings — a cross between illustrations and architectural renderings — elaborate the details of the architect's doomed subdivision. A cockamamie defense scheme engendered the warring blimps and airplanes, which Duggins has also represented in large-scale paintings. Other drawings show the history invented for Hickory Ridge, including two costumed figures vaguely reminiscent of the ancient Maya. The drawings double as the artist's own plans for the installation, from an exact rendering of the architect's desk to craft-kit-like instructions for folding the cardboard houses.
Whereas The Battle of Hickory Ridge had a composed sloppiness (lots of conspicuous Scotch tape), and The Architect's Desk an institutional polish, with The Moment That Changed My Life Forever Duggins seems to be experiencing a bit of an identity crisis. The cleanest installation by far is in the first room, where the speakers have it out in 3-D. Trompe l"oeuil shadows on the floor and walls, and a headline stenciled high in the corner proclaiming "All Debate on the Subject Ends" bring comic book conventions to life. This high level of refinement is not matched by the outdoor installation, which has a whole slew of problems, the most obvious being light. Why install a projection and an installation whose individual parts are illuminated out of doors, at a gallery that is open during the evenings one day a week, at a time of year when it gets dark half an hour before closing? Putting this obvious difficulty aside, we are left with problems of craft and problems of scale. While the elements that made up The Battle of Hickory Ridge were more or less to scale, the ensemble at Art Palace is off-kilter just enough to be annoying. The plastic highway overpass, which I'm sorry to say is a little shoddy, is definitely not wide enough to be a convincing roadway for even two lanes of plastic cars.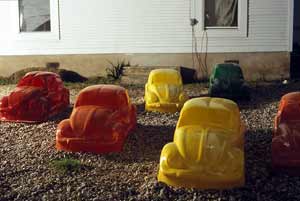 With the animation Duggins succeeds in reminding us again that the world we inhabit here is a scene from a cartoon, but the VWs must have a small attention span, because the video completes its loop in about three seconds. Maybe I'm nit picking because I didn't catch the projection until my return trip to the gallery, which left a lot of time for expectations to be raised. I was looking for the big finish that tied it all together. Duggins" animation didn't deliver.
What I admire about Peat Duggins is his development of a stock iconography over the last five years — a perusal of his website reveals a 2001 installation with cast plastic cars parked at a drive-in — which he continues to push in new directions through variations in media and narrative conventions. The inconsistencies and conceptual gaffs evident in The Moment That Changed My Life Forever represent a few speed bumps in these transformations within the artist's larger practice. Call it a touch of sophomore slump, or the reality of fabricating an ambitious installation on a limited budget. The outdoor installation felt especially like a placeholder for a future iteration of the piece, with the help of a little institutional support. While I'm not opposed to this type of maneuvering (every exhibition is, in a sense, an audition for another), the show at Art Palace could have been much stronger with a little healthy respect for the actual space available and whatever other constraints attended the installation. Dealers, collectors, and the art press love to praise artists with ambition, but as The Moment That Changed My Life Forever demonstrates, over-reaching doesn't always pay off — at least for the time being.

Images courtesy Art Palace Gallery.

Amanda Douberley is a PHD student in Art History at UT Austin, and a Contributing Editor to Glasstire.