Readers: after years of hankering, I'm trying my hand at a blog. Editor Kelly Klaasmeyer will be contributing from time to time as well. It's the GT staff blog. Here goes.
************************
Went to the John Alexander show today at MFAH. Much was made of his wild-assery back in the bad old days, particularly by Corcoran curator Jane Livingston, who is a hoot. Alexander's been gone from Houston a long time, but he was a big deal in the local art scene of the 70s and early 80s. He was in the seminal exhibition Fresh Paint, in 1985. He himself is absolutely charming.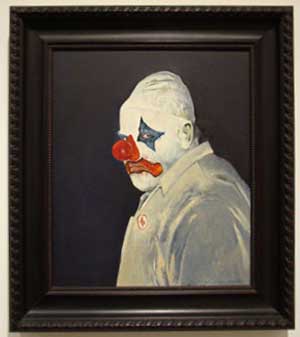 It's hard to be lukewarm about the work of someone so personally likable, but there it is: the works on paper are very good, some of the smaller paintings are good, and I liked this recent painting of a grumpy clown. But many of the larger paintings just don't do it for me.
His best material is the natural world. I particularly like his bird drawings. I like his humans. I think abstraction is his enemy, and I think that's OK since he doesn't wallow in abstract territory too much.
The show ends with several paintings of men with pig's heads eating gold coins and holding American flags and crosses. I appreciate Alexander's point, but… this one goes to 11 on the subtlety scale. Again, I hate not to just enthuse about someone so accomplished, who's been in the trenches for so long, but I found the show to be a mixed bag.
Alexander sure did keep our little press corps entertained, though. Amongst the bird drawings, he talked about the problems of getting old, then recounted a story of getting excited over spotting a new bird species at his house, and when he got the binoculars out, realized, "Holy shit, it's a squirrel."
Anyhoo, the opening is tonight (Friday 4/11/08), 7-9 pm, and the museum people mentioned that some "starlets" would be there, along with Chevy Chase. I ran into Frank X. Tolbert and Ann Stautberg at Whole Foods afterward and mentioned the last. "Well, they would best do," said Frank, "or John will talk about it." Adorable!
So here are more photos. These are all mine; apologies for the poor quality: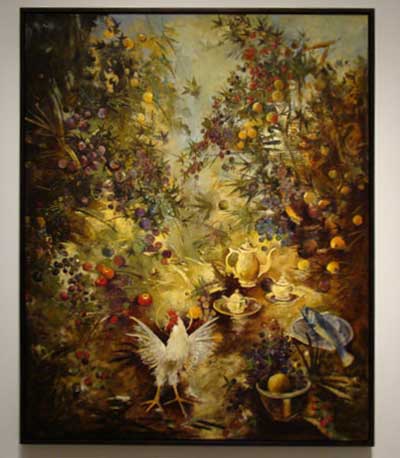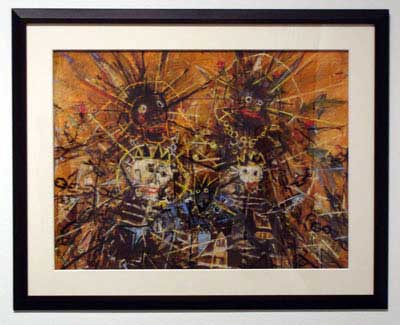 Livingston opened her comments with "John and I both get sick of being asked if he's influenced by Basquiat."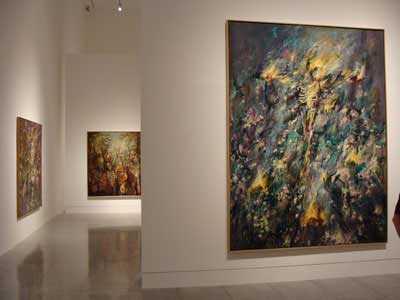 Nice installation.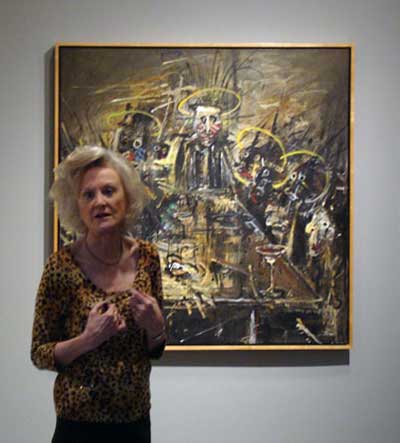 Bad photo of Livingston.
I wish I'd gotten images of the works on paper.
I also wish I'd gotten snapshot of two paintings referencing slavery: one of cotton, with chains quietly painted in amongst the roots, and one giant one of a bunch of exploded watermelons. Of the latter, Livingston said "The sadness of it all." <long pause> "John just can't get over it."
*********
Coda: gallerist Bob McClain was in attendance, and mentioned his gallery is opening a show of Alexander's work next weekend. Now, I'm not one of these all-museums-must-exorcize-themselves-from-the-polluting-influence-of-money zealots — I understand that it takes dough to keep those big spaces lit and air-conditioned — but am I off in thinking it seems odd that a gallerist would be at a museum press preview, and that the museum would mention his show?