Although Carr's work fits into a minimalist aesthetic, she uses materials traditionally considered feminine, such as fabric. Hammond emphasized Carr's creative process—her repetitive layering of materials. The layered fabric, Hammond wrote, "calls up the domestic environment and never-ending household chores, and the repetitive gestures inherent in women's traditional needle arts." In the final paragraph of the review, Hammond invoked the name
Eva Hesse
, the young female sculptor who made art history by inserting gender and body concepts into the dialogue around Post-Minimalist art.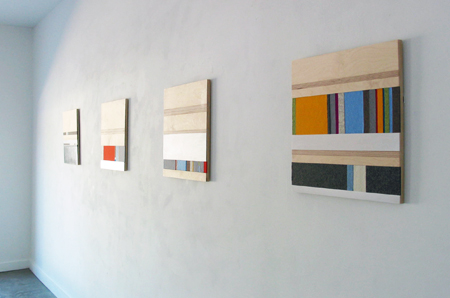 The thin layers of fabric Hammond described in her review appear sparingly Material Sequence at
Galleri Urbane
, in only five of the 18 sculptures. The artist's primary materials for the work in the exhibition are felt and plywood. Carr's new work features rectangles of felt, cut and fit like interlocking jigsaw puzzle pieces into indentations in the plywood. Elsewhere she leaves the plywood surface exposed, coated with either a thin layer of colored matte paint or a transparent gloss. From afar, the surfaces appear flat. Up close, though, the variety of surface textures and the different thicknesses of the felts become apparent.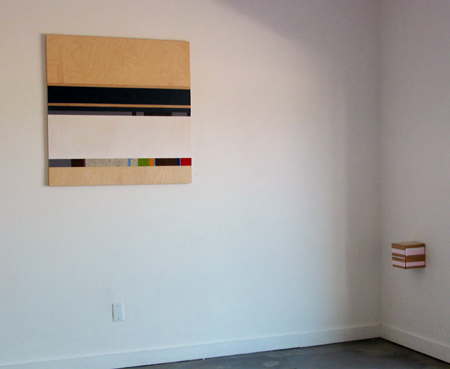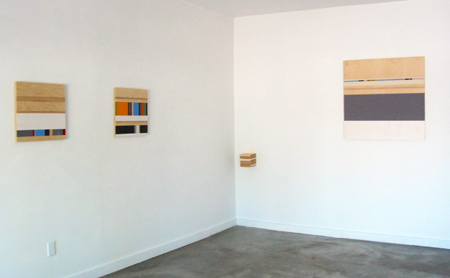 Carr playfully riffs on a few minimalist tropes. Three small box- or cube-shaped sculptures, forms made famous by sculptors such as
Donald Judd
and
Tony Smith
, hang on the wall at unusual heights—knee level and nearly flush with the top of the doorframe. Minimalist artists are known for taking sculpture off the pedestal and putting it instead on the floor. With her cubes, Carr takes the sculptures from the floor and displays them on the wall in absurd places. Carr also leans five flat, boardlike sculptures against a wall, as though they were waiting for installation.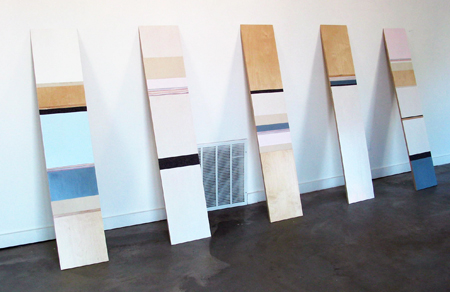 Carr's exhibition does the same thing to Minimalism, taking its traditions off the usual pedestals to move around, play with and re-examine.
Galleri Urbane in Marfa hosts a reception for Kate Carr and
Claire Oswalt
, who also has work on display, tonight, Saturday, Oct. 9, from 6 to 9 p.m.