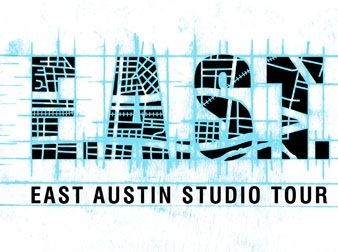 For the next two weekends, artist studios, art galleries and theaters all over east Austin are open to the public for East Austin Studio Tour 9 – a chance for the community to see where and what the working artists of Austin are up to year round behind closed doors. It's not only an opportunity to look into artist's spaces and see their processes, but it is also your time to buy and support these working artists, collectives, galleries, theaters and art orginizations. There will be demonstrations, out-of-the-box events, artist competitions, celebrations, group and solo exhibitions, theater events and lectures, as well as just getting a chance to have 1 on 1 conversations with these creative types. East Austin Studio Tour is put together and run by Big Medium, a non-profit dedicated to promoting the arts. The Tour is free and open to the public.
This is my first year in Austin for EAST and it's kind of overwhelming, but with two weekends to spread it over I hope to see and do as much as I possibley can. I plan to start it out tonight at 9:30 pm at EAST's Artists After Party with New York artist David Ellis who was recently commissioned by Landmarks, the Public Art Program of the university of Texas at Austin.
Tomorrow I will be using my official EAST catalog and maps to navigate my way around. I'm told they can be found at these locations if there are any left: Whole Foods Market on Lamar Blvd, Justine's, Domy Books, East Side Pies, and Hot Mamas Espresso Bar or you can check out the
website
which has an online catalog.
A few things I'm interested in are THE PAY PHONE REVIVAL with an opening bicycle tour tomorrow Saturday the 13th, which starts at El Chilito on Manor at 3pm. EYES GOT IT! on Saturday the 19th at Space12. It's billed as an art competition inspired by Bravo's Work of Art but done LIVE and Austin style with "celebrity" judges Sterling Allen of Okay Mountain, Rachel Koper who is the Program Director at Women & Their Work, and Risa Puleo, Assistant Curator at the Blanton. The ultimate winner will receive a solo exhibition at Pump Project in early 2011.
I also plan to swing by the studios of potters Chris Campbell and Ryan McKerley, jeweler Jaime Jo Fisher, furniture designer Blue Alan Way, photographers Ben Ruggiero and Barry Stone who are at the Okay Mountain Studio Annex with sculptor Faith Gay, installation and ceramic artist Marianne McGrath, sculptor Scott Proctor, and Joseph Phillips whom I saw at D Berman a month or so ago. These are just some the people I am already aware of but I hope EAST will give me a chance to learn about new artists and venues here in Austin. So get out and get going tomorrow… hope to see you around!