There is too much to do in Austin this weekend! So whether you're from here of need an excuse to visit these are my picks to help you manage your time with events, closings and deadlines.
This is the last weekend for the Fusebox Festival. At the end of its two week run of experimental performing arts there are a few strong choices left to see and experience.  The website has more information but I'm going to see I've Never Been So Happy by Rude Mechs on Sunday. It's said to be a show  "that explodes the myth of the Wild West with a fun cultural mash-up of theater, pop culture and melodrama".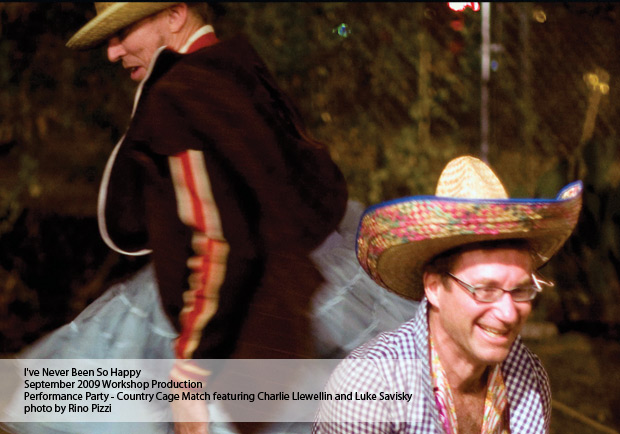 For galleries check out Champion Contemporary for  The Sultans Played Creole, a group exhibition organized by James Cope. Honestly its a mixed bag of work but Dallas artist Marjorie Schwarz's paintings and Austin-based Amy Revier are worth a look. Revier's  sculpture Fin in a Waste of Waters in the front window is a strange mix of materials that reference travel, youth, innocence, and a need for security.  While you are there spend some time in the backroom with the videos of QNTV curated by Rachel Adams and Zoë Taleporos.
I still have a lot to go out and see having missed the opening weekend of the Texas Biennial but I did swing by Women & Their Work today and suggest you do the same. Barry Stone, Elizabeth Chiles and Susi Brister represent photography well. Susi Brister's R&T and Frosted Mongolian in Fallen Leaves and  Dallas artist Kristen Cochran's Domesticated Stump installation balance each other well when humor and formalism unite. The work is up till May 14th.
At Lora Reynolds Gallery there is a little over a week to still catch Hubbard & Birchler through May 7th. This exhibition features stunningly beautiful photographs of abandoned movie houses and don't miss the Texas premiere of their most recent video installation Méliès. It's set in the Chihuahua Desert of West Texas near the border town of Sierra Blanca. The video explores the cinematic legend of a specific location named Movie Mountain. The video runs 24 minutes so plan ahead for parking because it is well worth your time.
Tomorrow night between 9pm and 11pm at Colab you can be lulled to sleep by Katelena Hernandez with her final performance of Comfort Sessions (pod 2, dress 1, nest 2) a mixed media performance. Here is a sampling:
http://vimeo.com/23035755
Art Week Austin is series of collaborations developed to encourage discussion, exploration, and the coming together of the Austin community. Several events to see this weekend include AMOA's triennial New Art in Austin, Texas Biennial which is up till May 22nd and and go hear artist Jon Rubin talk about his projects Conflict Kitchen and Waffle Shop tomorrow at 10 am. –following that is a full day of  Art Week Austin's Hybrid Arts Summit 2011. Click the Hybrid link to download the full schedule and locations.
Now for some important deadlines to keep track of this weekend:
Tomorrow April 30th is the last day to register for Nohegan East! Some of the workshops include:
Fireside Feelings Chat and
 Shanty rafts, homebuilt boats, and refugee floatillas!
Finally May 6th is the deadline for the Creative Capitol Core Weekend Workshop, June 24- June 26 at Arthouse. I can't recommend this enough since Creative Capitol is an amazing organization based out of New York that supports artists, their professional development and artists projects.  A friend was a part of a similar workshop a few years back when Diverse Works in Houston hosted the group.  It's described as a "crash course in self-management, strategic planning, fundraising and promotion". The cost is $100 but subsidies are available.