I have to admit that art fairs, in general, are not my thing. They seem exhausting for everyone involved from visitors to the gallery girls working the booths. With 80 participating galleries in this year's Houston Fine Art Fair, my eyes were glazed over after about an hour at Reliant Center, and I had a zombie-like stumble to my step by the time I rounded the corner of the last aisle at the press preview. Nonetheless, some aspects of the fair stood out despite my fatigue. So with the disclaimer that I often drift toward the familiar when I am overstimulated, and the admission that I have to exempt myself from listing Gallery Sonja Roesch because my husband shows there, I would like to acknowledge the following highlights of the HFAF this year.
Brad Bucher and Victoria Lightman have curated a beautiful selection of works from private collections by some of the Core program most illustrious alums including Leslie Hewitt, Julie Mehretu, and Shazia Sikander.
2. Focus Artist Exhibitions
Sixteen artists have solo presentations in a cluster of small booths in the back of the fair. There are some real gems in here including a group of Geoff Hippenstiel paintings, a selection of Carlos Cruz-Diaz works, and a large installation by Joe Havel, "Hope."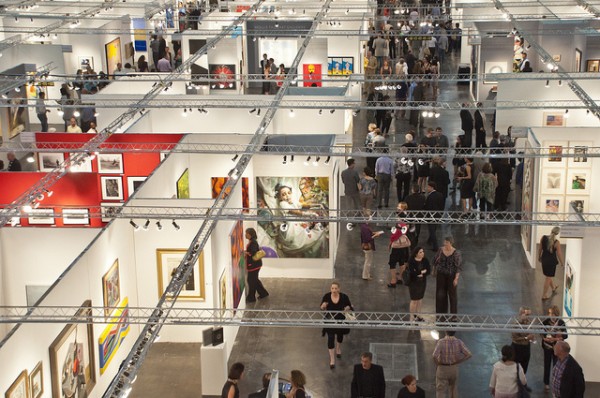 3. 20th Century Art
The oldies are gathered at the center of the fair by an open area with tables and chairs. Tucked away in some of these deep booths are some stunning works—such as a selection of vintage Man Ray photographs at Schroeder Romero & Shredder and a beautiful little de Kooning painting at Hollis Taggart Galleries.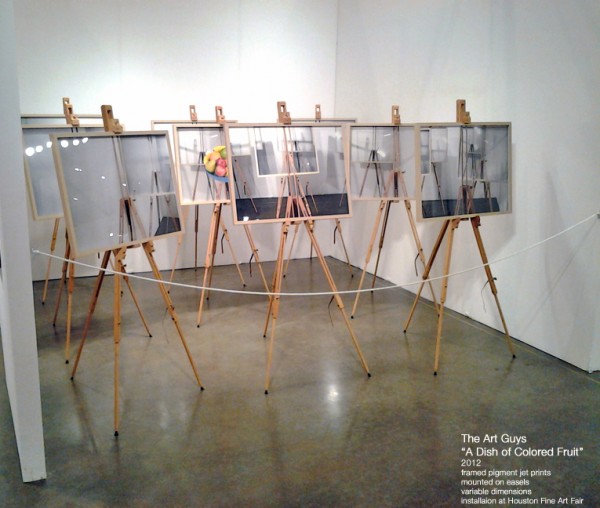 4. The Art Guys "Picture This"
These guys crack me up. Love their picture within a picture tribute to Magritte's "The Human Condition." This was a true bright spot in the fair.
Some of my favorites were on the outside walls of the booth including classic post-apocalyptic men in sweatsuits by Robyn O'Neil and a painting by HFAF artist of the year Trenton Doyle Hancock.
From an old-school Kara Walker from 1996 to a brand new painting by Daniel McFarlane in a blue so deep it looks as if you can fall into it. This booth has got it going on.
Momentum is building here in Houston. While other large cities are closing their fairs or ceasing their biennials, our city's art market is growing. We have long been known as a great place for artists to work, and I hope the word is now getting out that Houston is a great place to buy and sell art too.