It wasn't 'til Sunday morning that I got the point of the Marfa Dialogues, an extended look at art, culture and climate change over Labor Day weekend. We were trooping across the chaparral on Mimm's ranch north of town in the company of Dr. Bonnie Warnock, a range scientist with Sul Ross University. Warnock described the rebirth of the range a little over a year after the horribly destructive Rock House Fire that swept from Marfa past Fort Davis and northward, consuming over 300,000 acres of drought-parched desert.
My revelation? Unprecedented drought and fire tend to focus your attention on the climate.
I arrived at my motel in Alpine Friday evening, after a bit over ten hours on the road. Higher speed limits notwithstanding, Marfa is still very far away. I was too tired to attend the opening reception for the group exhibit Carbon 13 at Ballroom Marfa, or the dinner that followed. A scheduled screening of Koyaanisqatsi was no temptation at all, even though I've not seen it since our VHS player crapped out back in the '90s.
Saturday morning, I checked out Farm Stand Marfa—a weekly market selling prepared foods and local produce. One booth demonstrated a solar oven; another offered stone tools. That evening, Michael Pollan would joke it was the only farmers market he'd ever seen that sold rocks. Well, they are drought-tolerant.
I scarfed a delicious chile verde burrito and wandered off towards the courthouse where the town was celebrating the Marfa Lights Festival with vendors of another sort: bead work, tie-dye Ts, funnel cakes, chicken on a stick. Cops blocked off a couple of streets for a small parade of emergency vehicles and Shriners, candies tossed to a thin crowd of spectators.
A sign in a shop window announced a gun show in the Marfa USO building only a couple of blocks away. Admission was $5; $4 with an NRA membership. The show was crowded with sellers and shoppers and likely more than a few aimless gawkers like me. I was particularly impressed by an enormous Colt 45 revolver on display among assorted Glocks, Sig Sauers and Berettas. The guy next to me called it a "real hog leg."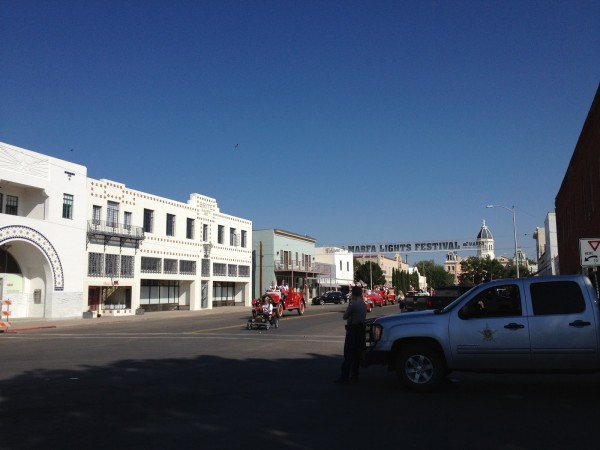 Nobody was talking about the climate.
The participants in the first Dialogues panel that afternoon, on art and environmental activism, were artists Amy Balkin, David Buckland and Adriane Colburn. Rebecca Solnit was the moderator. It was for her that I drove ten hours. I've been a crazy Solnit fan ever since reading "Wanderlust: a History of Walking" last year.
Buckland is the founder of the Cape Farewell project, which "embeds" arts professionals into scientific research expeditions to the arctic and Amazonia to enlist creative skills in the dissemination of the scientific narrative. Both Balkin and Colburn have participated in the project.
Balkin's contribution to Carbon 13 is a participatory map of places that may disappear due to climate change—the map is more an archive of objects donated by people in the places in question. She also has proposed listing the atmosphere as a UNESCO world heritage site. Really. Colburn spoke of visualizing the earth through maps, and of mapping as a gateway to conquest.
Solnit spoke of how cultural changes precede political/legal changes. Her example was gay rights—beginning with people coming out of the closet and becoming more open about sexual orientation and eventually leading to marriage equality. She also spoke of being all in favor of pleasure, and the need to couch climate remediation in terms that do not conjure puritanical calls for austerity.
Chatting with some Occupy Marfa types later, I began to imagine Texan culture as a supermassive moving object, a big ship about to collide with a dock. Changing culture is a daunting proposition. Solnit is a brilliant writer. She's evidently a tireless activist, as well. But I can't enthusiastically embrace her optimism about turning that ship around in time.
Next up were two climate scientists: Dr. Diana Liverman, co-director of the University of Arizona's Institute of the Environment, and Dr. John Nielsen-Gammon, Texas State climatologist. One of the really good points about the Marfa Dialogues was the involvement of artists and scientists and public intellectuals with the whole project. The scientists attended the arts panels and the artists actively engaged with the scientists. Nielsen-Gammon explained that he had to adjust his color code as he showed slides illustrating the extent of the 2011 drought. The old system of color representation couldn't handle his data. It was that bad.
What I particularly took away from the scientists' presentation was Liverman's assertion that we no longer live in the Holocene epoch: the world has become so completely dominated by our species that she proposed to name the current geologic era the "Anthropocene."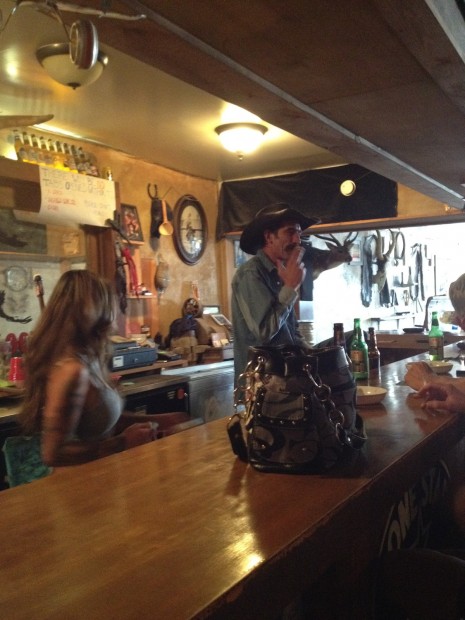 5:00: time for a beer. I walked to a BBQ place on US 90 a block or two from Ballroom Marfa and got a pint of Shiner for a buck from a sexpot barmaid. She wore a chopped up T-shirt, Daisy Duke cutoff jeans, a warm brown tan, a passel of tattoos, a stump sock where her right knee used to be and an artificial leg. The place reeked of cigarette smoke. A cat hopped onto the bar and tried to get at my Shiner before the barmaid put him outside.
At 6:00 Saturday evening, Hamilton Fish, one of the event's organizers, interviewed the great Michael Pollan. The room was packed. Pollan was brilliant and very funny. And not very relevant to a discussion of climate change. His concentration on food could connect to greenhouse gasses, environmental degradation due to overgrazing and the misuse of chemicals. And indeed, some of that came out in the discussion, but much of the 90-minute talk concerned healthful eating, nutrition and the like. This is not to say that his ideas and opinions were a disappointment to me or the crowd in any way. The guy's a great speaker and an important thinker on food issues. He was just a bit of a mismatch with the weekend's topic.
After the guided range-walk Sunday morning, we were treated to a brunch of fruit and burritos. Some were vegetarian, but the beef burritos were made with meat from a grass-fed steer raised on the ranch. They were extraordinary. Fun fact: Warnock told us that ranchers around Marfa run about ten cattle per section. That's one steer for every 64 acres.
Sunday afternoon, Solnit read selections from her published work: a beautiful essay on the origins of the Arab Spring and its implications for street activism here in the U.S.; a sincerely warm appreciation of country music written as only somebody who'd come to the topic later rather than sooner could write (having an affection for the rich exoticism of what was there all along, only unnoticed).
She presented her hopefulness about times to come as an intellectual concept: Hope involves a personal commitment to work for a better world. In this, hope is distinct from both despair and optimism, both of which assume knowledge about the future. Hope acknowledges uncertainty, and the possibility of effective action in a future arena.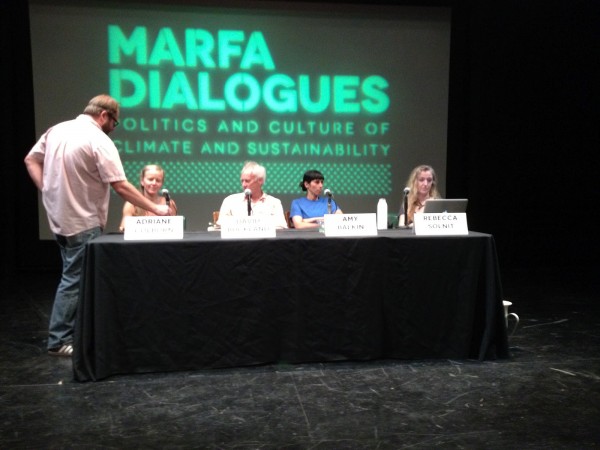 Again, I found her to be inspiring and brilliant. But I'm a Texan, and so I know how pig-headedly awful my fellow Texans can be about the facts. Last year, when the political hacks in charge at the State Commission on Environmental Quality deleted references to rising sea levels in a state-published report on peer-reviewed articles about Galveston Bay, I publicly announced that I had seceded from Texas. So far, nobody has noticed.
The last presenter I saw at the Marfa Dialogues was an odd, appealing hybrid of entrepreneur and activist named Tom Rand, who looked at some possible avenues to de-carbonizing the economy and what they might cost. He said he'd reduced the carbon footprint of a Toronto building by 75% and turned a profit, using off-the-shelf technologies. His major point was a call for a revenue-neutral carbon tax: Make carbon consumption more expensive, and hand the revenues back to consumers to spend as they see fit.
Simple elegance and political impossibility wrapped up in one thought.
Or maybe we can begin turning the culture around.
____________
 Michael Odom is an artist and writer who lives in a sleepy town not far from Dallas.