I had the pleasure to travel to Mozambique this summer to visit some friends, who had recently relocated there. We stayed outside the capital city Maputo in the town of Matola. In researching Mozambican art, I found information on the two most renowned artists—sculptor Chissano and painter Malangatana (both have museums located in their former residences). Neighboring country South Africa has a thriving contemporary art scene. Zimbabwe had a pavilion at the 54th Venice Biennale that featured Zimbabwe born artist Berry Bickle who works in Mozambique. The only Mozambican artist to ever show at the Venice Biennale is Angela Ferreira who was born in Mozambique and grew up in South Africa. She represented Portugal in the 2007 Biennale. Other than those two references, I did not find evidence that Mozambique has an international art presence. In a country where so many people live below poverty level, struggling for daily sustenance, is art considered a luxury rather than a necessity?
While taking a tour of the downtown architectural sites, I accidently stumbled upon a flyer advertising the Expo Arte Contemporanea. For the month of August, 37 artists displayed their work at seven different historic and cultural venues. What surprised (and encouraged me the most) was that over half of the exhibiting artists were Mozambican. Their work showed experimentation with both contemporary media and conceptual strategies.
My first stop–the Fortaleza, a pentagonal-shaped fort built by the Dutch in 1721. The architecture and the site's history are suited to showcase the Expo's eight featured artists' work. I was particularly drawn to the work of sculptor Butcheca and photographer Mario Macilau. Traditional Mozambican sculpture usually features figurative carved wood. Butcheca deviates from tradition using found materials and assemblage. I am always aware of my Western-centric art education, when looking at art in other cultures. So I won't make any comparisons to Rauschenberg or Duchamp. Unlike traditional assemblage sculptors, he incorporates a lot of detailed mark making into the works. While abstract, the sculptures' titles give clues to a deeper context beyond the formal elements. Um Olhar and Ruinas do Passado translate to A Glance and Ruins of the Past. Given the fort's history (of war), I interpret both as a reminder of Mozambique's oppression during colonialism and communism.
While Macilau's photographs of the Bocaria stood out for their technical precision, it wasn't until I visited the Bocaria that they began to haunt me. The Bocaria is THE garbage dump for the city and outlying areas. Thankfully we visited this site towards the end of my trip, because it wrecked me, both emotionally and physically. Literally, the dump is a mountain of garbage, expanding for miles in all directions. Mozambicans burn their trash, so fires and thick smoke cover the area in a thick haze. Did I mention that plastics are not recycled? So breathing in the fires/smoke includes breathing the toxic carcinogens from burning plastic. That wasn't the worst part. People live in and near the dump. They work at scavenging anything that might be useable or saleable. I spent a few hours hiking the garbage mountain and meeting the people who lived in such deplorable conditions. Most were without hope. After experiencing the Bocaria, it would have been very easy to make depressing photographs that pull on heartstrings. But Macilau resisted the easy impulse. His images have humor, as well as showing hope and dignity.
Next stop—the train station, which was designed by Gustav Eiffel (architect of the Parisian Eiffel Tower). I admit I was majorly impressed upon learning that Eiffel built two structures in Maputo-the train station and the Iron Palace. The Iron Palace was something of a conundrum. Since the building was made of solid iron, it tended to heat up in the sun. Needless to say there was no A.C. in those days and no one was able to live in the building without risking third degree burns and/or heat stroke. I found out that the French bought it, installed A.C. and use it for offices. No visitors allowed.
Housed in the train station is the cultural center Kulungwana. Inside featured three video and installation artists. These were among my favorite works. Despite my pleas, the guard would not allow me to take photographs. Portugal artist Susan Medeiros' installation Trampolim e Descerrar was comprised of three men's business suits tethered together forming a trampoline-like structure. The work's subversive quality reminded me a bit of surrealist artist Dorothea Tanning's sculptures. Medeiros' work references power and patriarchy. I was told that the web of patriarchy in Mozambique is tightly woven on many levels. Mozambican artist Joao Gracas' video installation Untitled combined assemblage with digital video. A small video monitor was suspended from a ladder projecting a skewed perspective of the ocean's horizon line with a passing freighter. Maputo is a major port city and hub for many kinds of commerce—both legal and illegal. My Portuguese is a bit lacking. Hence my interpretation of Gracas' artist statement might be off, but he seemed to be interested in the natural perception of reality. I extrapolated that to mean the macro distorted perception that the Western world has about Africa. I also read that as a comment on the skewed perspective of human traffickers and facilitators. (Mozambique is a big hub for trafficking). The video installation by Zimbabwe artists Stephen Hobbs and Marcus Neustetter was infused with a Dada-esque humor and playfulness. Borderless featured a clock that had a digital video of a swinging zebra tail functioning as the pendulum. I chuckled as I thought about my friend's favorite saying when anything went wrong–TIA (This is Africa. Meaning anything can or will happen at any time.)
The Instituto Camoes featured seven artists' works. Commanding the space were Mozambican painter David Mbonzo's three large-scale paintings of faces. Executed in an abstract expressionist style, the paintings exuded emotional ferocity. The works title Profundo aflicao mental suggested that the subjects were suffering from profound mental afflictions. Extending from the paintings were strings that converged at a central vantage point in the room. A mirror on the pedestal implicated the viewer, suggesting the common universal human bond. In my opinion, this element was heavy-handed and unnecessary.
The real gem of the day was my visit to Karl Marx 1834 . Despite the fact that the country has not recovered from Communism as evidenced by the unpaved roads and crumbling buildings, apparently no one has thought to change the name of this major boulevard. Unlike the other venues, this was not a cultural center but the house and studio for Mozambican sculptor Goncalo Mabunda. His work has been widely celebrated over the last few years with solo exhibitions in New York and Europe. He makes abstract figurative sculptures and furniture from deactivated weapons from the country's civil war. The chairs are particularly powerful due to the duality inherent in the materials (guns and bombs) and functionality of the object. Ornate like wrought-iron filigree, the chair does not offer comfort, but instead implicates the viewer.
My initial query was how art functions within a society of disparate economies. While a vast majority of the population will not visit art museums, galleries or cultural centers, it was inspiring to see so many artists making work about social issues inherent in their culture and country.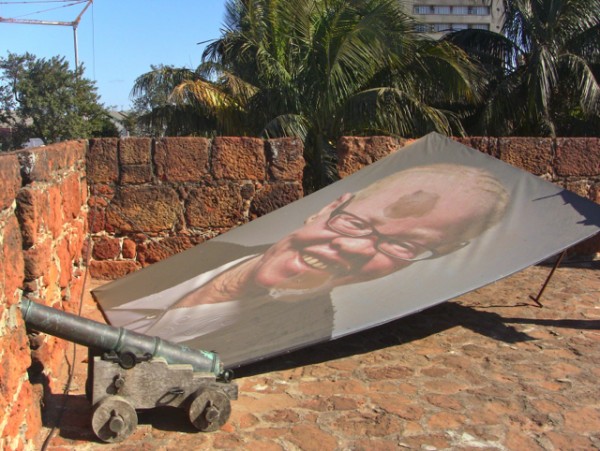 _________________
Multi-media artist Colette Copeland recently relocated to Dallas from Philadelphia. She writes for Afterimage—Journal of Media Arts and Cultural Criticism and Ceramics: Art and Perception Magazine. Her work can be found at www.colettecopeland.com.