1.
New York in the fall is ridiculously seductive. I visited this past weekend and the weather was perfect–blue skies, cool breezes. I walked all around, looking at art, meeting friends for studio visits, and basically falling in love with the city all over again. It's hard (even for me) to be a cynic in the city this time of year. I met up with my friend J. Parker Valentine for a studio visit in her loft in Williamsburg. She's working on two upcoming exhibitions in Germany. Continuing her investigation of gesture and line, she's also now experimenting with paper and fabric. She has a clever suite of new photographs that play with our ability to recognize figures in mundane things. Lucky for us, Parker will be in Texas this winter as a resident at ArtPace.
2.
Former SOFA artist and long time friend, Jeff DeGolier is still working with janky odds and ends found on the streets of Buschwick, Brooklyn. He's framing them now, making the collages feel more deliberate and formal, and getting closer to Rauschenberg (always a good thing). These things affixed to a flat surface start to develop a sense of landscape, passages of sawdust, household fixtures, and pinned on photos. Some of the new works are also jerry-rigged boom boxes, emitting soft rock throughout Jeff's studio. We discussed his latest collaborative project Metal Fatigue Music (1992 Toyota Previa), an immersive sound experiment that takes place in a mini-van.
3.
Saturday night I attended the Sculpture Center opening for A Disagreeable Object. Figuration runs high in this exhibition curated by Ruba Katrib. The show write-up reads a little too academic and is full of unnecessary jargon (can we please stop with the informe?). However, the exhibition is smartly put together, combining more established artists with up-and-comers and international with national artists. Many of the works are terrific (Johannes VanDerBeek's sculptures pushed into the basement hallway feels perfect), but there was a kind of leveling effect when taken as a whole. It's almost as if the exhibition is too specific, exploring too faithfully the negotiation of self and subjectivity in relation to objects, which does not allow for fluid and open correspondence between works. Or maybe it was just that I longed for more space between the pieces.
4.
On Sunday morning I stopped over at Regina Rex in Buschwick to see the exhibition Yesterday Amphoric, a show that includes work by Ginny Cook, Rosemary Mayer, and David J. Merrit. Regina Rex is a curatorial collective and their projects are almost always elegantly and smartly installed. This installation allows for the works that explore materiality and mutability to stand on their own as well as change based on their proximity to one another. For instance, Mayer's organic nest-like sculptures from the early 1980s take on a kind of monumentality in relation to Ginny Cook's contemporary black and white photographs of classical urns and containers. Textural, monochromatic, and spare. The show is beautiful.
5.
Next, I took the train to the Lower East Side to check out the Mary Weatherford show at Brennan & Griffin. Roberta Smith had a funny review of the show in the New York Times recently (she's perfected the bitchy back handed compliment). She wrote: "Color Field elegance plus Post-Minimal insouciance isn't promising, nor is the fact that the paintings were inspired by memories of New York." And the combination of Frankenthaler staining and thin Dan Flavin bulbs seems, in theory, a disaster. But it really works here. Smith thinks so too. She ends her review: "The whole package is quite engaging."
6.
After visiting the New Museum's Ghost in the Machine (the first floor was real nice but it did not need to be a museum wide show), I visited Klaus von Nichtssagend's new space. I walked right by it a couple of times and then finally found the gallery after walking through a tight hallway. It was worth the confusion to see the group exhibition Walled Garden that features Austin's own Barry Stone. The show is very straightforwardly about nature. Such a simple and open conceit allows for the artist's work to be available to a variety of readings, to not be so theoretically pinned down (as the work seemed to be in the Sculpture Center show). The show features traditional sketchy landscapes by Tom Fairs just as it does a wonky clay piece by Arlene Schechet. Always doubting the function and reading of photography, Barry Stone physically degrades the object in Say It and Mean It. Tearing an image of a super flattened landscape, he denies the viewer any aesthetic sense of illusion and transportation. We're stuck in-between.
7.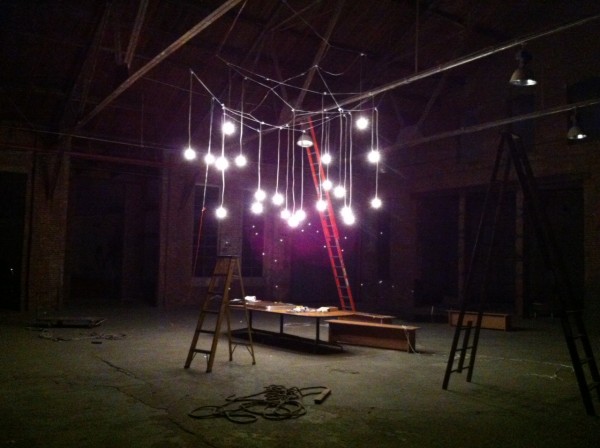 I came to New York not just to look at art but also to attend my close friend's wedding. Stacie's a painter and her newly minted husband is a performance artist so, naturally, the party was held in this incredible new multimedia art space in Queens, the Knockdown Center. Former Austinite, Kate Watson, is part of the team making this space work. It's an old door factory and has just recently been converted into a space for projects. Mini-golf and movie nights are scheduled now but exhibitions are in the works too. What makes the space so exciting is the sheer potential for a multitude of projects–the fact that there is a space in New York that is not overproduced, that's raw and available. That evening, under swaying lanterns hung from the high ceilings, we danced and later, jumped in the pool. We celebrated our friends' love and commitment by having an enormous amount of fun. Thanks, New York <3.