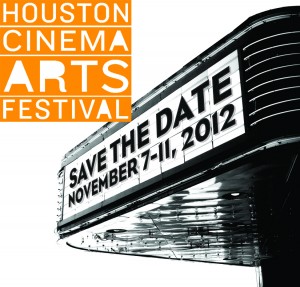 The Cinema Arts Festival begins this Wednesday, November 7th and will continue through Sunday, November 11th. To kick off the festival, several video installations are already on view in the Cinema on the Verge exhibition in a gallery space in the 4411 Montrose complex. Fellow Glasstire contributor, Peter Lucas has lent his expertise and eye for the experimental film, video installation and performance work, so I recommend you check out his post to learn more.
My list of choices for my personal itinerary are more heavily weighted toward documentaries, especially those exploring how art relates its makers as many of the films delve into an artist's personal life. Dance/choreography appear to be a major part of the festival, but one I am not gravitating toward as much just because of my own personal sensibility. There are also several dramatic/fictional films that look interesting, but unfortunately you cannot be in two places at once, so decisions had to be made. Here's my tentative plan:
Wednesday, November 7
7:00 pm – Love, Marilyn – Opening night film where a star-studded cast read from Monroe's personal letters and diaries in an attempt to find the "real" Marilyn.
Thursday, November 8
2:00 pm – Tatsumi – Animated biography of Japanese comic-book artist Yoshihiro Tatsumi mixed with adapatations of Tatsumi's own stories.
http://vimeo.com/43701521
3:30 pm – In Bed With Ulysses – Appears to be a provocative look at how the book relates to Joyce's personal life.
6:15 pm – Beauty is Embarrassing – I am definitely biased having worked with the artist Wayne White on his Rice Gallery installation. Having first-hand experience with his art and having heard his stories, this documentary about Wayne should be smart and insightful, but consistently lightened by nonsense and good laughs.
Friday, November 9
Noon – Texas Filmmaker's Showcase – Seven short films from Texas artists.
2:30 pm –Trash Dance – A documentary filmed in Austin about choreographer Allison Orr's collaboration with sanitation workers to create performance art with garbage trucks. Hard to pass up anything where one of the men in the trailer says, "How can I make a big'ol hunk of machine be romantic." This does sound like a challenge, and I want to see if they pull it off.
5:00 pm – Phil Solomon: Collaborations with Stan Brakhage – Artist, Phil Solomon, who according to the Cinema Arts website is one of the few people to have collaborated with Brakhage, will discuss Brakhage's work.
7:30 pm – Caeser Must Die  –  Lusciously filmed documentary about a prison production in Italy of Shakespeare's Julius Caesar. Like Trash Dance, this film appears on the surface to be about people, who are not conventionally associated with art, creating art and seeing what meaning it brings it to them.
9:10 pm – Casting By – Documentary about how casting director Marion Dougherty helped shape the "New Hollywood," doing away with an old system of typecasting. An overlooked part of the film industry that I am curious to learn more about.
Saturday, November 10
11:00 am – Meet the Makers Q&A – Phil Solomon, J.J. Murphy, Vanessa Renwick, The Light Surgeons, Stacey Steers, Chris Johnson discuss their work in the Cinema on the Verge exhibition, moderated by Cinema Arts Artistic Director, Richard Herskowitz
1:30 pm – Vanessa Renwick: The Oregon Department of Kick Ass – Short films by Renwick, who in the Cinema on the Verge exhibition has a video installation called Medusa Smack, a "jellyfish-tent" which viewers can lie underneath on soft pillows and watch colorful and translucent Jellyfish float and slide by overhead.
The Oregon Department of Kick Ass includes:

Britton, South Dakota (2003, 9 min.)
Ivan Besse was the Strand movie theater manager in Britton, South Dakota, during the Depression. He had a 16mm camera and went about town shooting people at their various activities during the day.

Toxic Shock (1983, 16mm, 3 min.)
Renwick's experimental response to sweating out near death with Toxic Shock Syndrome.

Portrait #1: Cascadia Terminal (2005, 6 min.)
A mesmerizing stare with a hypnotic score at the most efficient grain terminal at the port of Vancouver, B.C.

Portrait #2: Trojan (2006, 5 min.)
A monumental nuclear power plant tower is imploded and Renwick calmly documents its demise. Stunning to watch and perfectly blunt.

Portrait #3: House of Sound (2009, 11 min.)
Circling the empty corner where a historic Portland record store once stood among a strip of black jazz clubs, Portrait #3: House of Sound is a testimonial to a community and cultural space recently demolished.

Richart (2001, 23 min.)
A tour through the mind of obsessive collagist and front yard artist Richard Tracy.

SF HITCH (1981/2012, 5 min.)
Renwick and her wolf dog, Zeb, set off hitching in the early 80′s from Chicago to SF to check out the scene. They met some beats and some freaks.
3:00 pm – Kanzeon – Documentary about the connection between sound and spiritual experience in Japanese Buddhism.
4:00 pm – Remains to Be Seen: The Films of Phil Solomon – Depending on time, I may not be able to see Kanzeon and opt for more Phil Solomon. In American Falls, on view in the Cinema on the Verge exhibition, Solomon chemically emulsifies film, so sepia-toned figures slip in and out of abstraction as they appear to crackle, burn, and wash away. American Falls uses documentary footage and hollywood films to create a haunting, mesmerizing narrative of how individuals get swept up in the tidal wave of historical forces.
7:30 pm – Supereverything performance by The Light Surgeons with musician Ng Chor Guan – Really looking forward to this after seeing The Light Surgeons' clever Dialog installation in the Cinema on the Verge exhibition where recordings of people debating are replayed on computers sitting side-by-side in adjacent office cubicles. Supereverything is a "live cinema performance" of a tour through Malaysia in the Asia Society's beautiful, brand new auditorium.
Sunday, November 11
Noon – Question Bridge: Black Males – A stitched together conversation among black men across place, class, and generation. On view at Project Row Houses, Wed-Sun from Noon – 5:00 pm. Artist Chris Johnson will speak at 1:00 pm on Friday, November 9.
4:30 pm – Mugaritz Bso –  A documentary profiling musician Felipe Ugarte's quest to find a musical equivalent for avant-garde chef Andoni Luis Aduriz dishes. Cinema Arts website describes: "Ugarte's desire to produce a sonorous world that is faithful to each dish leads him to search for soundscapes in the mountains of Gipuzkoa, in the pastures of Extremadura, and in the Galician Sea. Sardón's camera follows Ugarte as he rounds up and records exceptional musicians and unusual instruments from around the world, and we hear the results as the food is prepared. Then, we dream about a trip to Spain…"
7:00 pm – Diana Vreeland: The Eye Has to Travel  – Documentary about Diana Vreeland, one of the most influential people in fashion and former editor-in-chief of Vogue.  Q&A to follow with Lisa Immordino Vreeland and a good friend of Diana Vreeland, Lynn Wyatt.