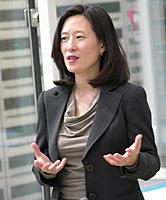 On Wednesday, December 5, the public is invited to talk over the proposals with Mikyoung Kim, consultant for the HemisFair Park Public Art Plan from 6-7:30 pm at the Magik Theatre, 420 South Alamo Street.
Ms. Kim and her team are a firm of Boston-based landscape architects working with the Department for Culture & Creative Development, the HemisFair Park Area Redevelopment Corporation (HPARC), and the citizens of San Antonio to develop a master plan that will expand and sustain the residents and visitors interest in public art and cultural activities at HemisFair.
Selected in August to fulfill the $88,500 one-time contract, Ms Kim will present her goals for the project, and answer questions. Why? It's because "HemisFair is a public park and as such we have to engage the community in every step," said Andres Andujar, CEO of the HemisFair Area Redevelopment Corp.