Filmmaker/photographer Bill Daniel's work has been featured at the Viennale, MoMA, Walker Art Center, Deitch Projects, and countless other prestigious museums, galleries, and festivals. He's a Guggenheim fellow, and recipient of numerous awards, grants, and residencies. But you wouldn't know any of that talking with the soft-spoken, humble, and ever old-school DIY drifter. The truth is, he's always been more focused on showing his work in little microcinemas and alternative spaces, selling photo prints out the trunk of his car, and connecting with artists, outsiders, and oddballs (you know, real folks) than shooting for big money or art stardom.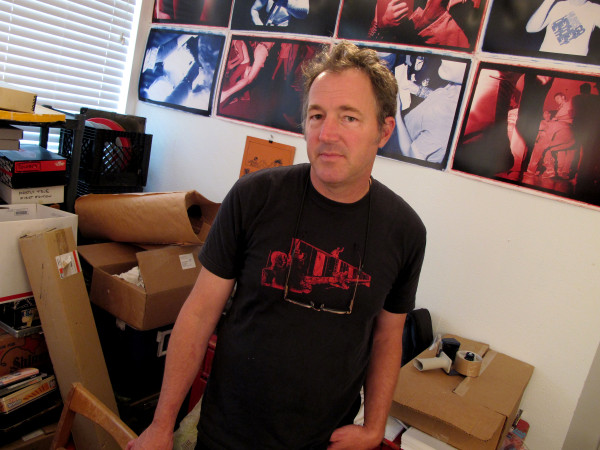 Originally from Dallas, he moved to Austin to attend UT in the late-1970s. There, with a couple of photography classes and access to a burgeoning punk scene, he began a lifelong photographic exploration of marginal subcultures from the inside out.
I first encountered Bill in Austin in the '90s, when he was showing 16mm prints of great experimental films that nobody had heard of at the Ritz (formerly a music venue, and now Austin's Alamo Drafthouse Cinema.) He also brought programs from that "Funhouse Cinema" series to Houston's then-new Aurora Picture Show and other small venues around Texas. I knew that he'd also done some films and zines, but it wasn't until a few years later, when I became a film curator and festival programmer (myself, showing great films that nobody had heard of) that I became aware of his extensive film, photography, and installation work.
Now, after years of living in San Francisco and Portland (and boxcars, vans, and couches around the country), Bill has returned to his home planet of Texas and to a project that he began decades ago. Based in Houston, he has begun to delve into a book project called The Texas Punk Problem comprising photos selected from thousands that he shot between 1980 and '84 in punk clubs in Austin, Houston, and around the state.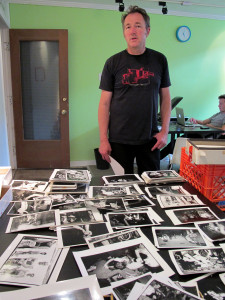 The process will involve a lot of combing through his photo archives, and also making a ton of new prints in the darkroom. Nowadays, for extensive publication projects like this, one would normally scan the negatives and then tweak them digitally. I asked Bill about his decision to go analog­ and he said that he prefers the look of prints. But then, after a moment, joy came over his face as he described the zen of slowly rocking trays and squeegee-ing. Clearly, sticking to the hands-on method that he began with is important to him, and I'm with him on the look and feel of the organic process.
He has also decided to avoid an overly-nostalgic tone by including only text from zines and flyers from the time period­—no newly written love letters to the era. Rounding up that material means even more digging, and connecting with band members and old friends across the state.
Alongside creating and capturing images, Bill has always been a collector (although I think he'd see himself more akin to a junk collector than to the fancier, more academic and finance-minded culture amassers.) Over the years, he has acquired a vast and eclectic assortment of both invaluable and unvaluable media, relics, and odds and ends. The Texas Punk Problem project now puts him in the unique position of being simultaneously an artist and archivist—of digging into his own work and experiences as a collector and curator. But the convergence of these worlds isn't necessarily a new thing for him. His work editing films such as Sonic Outlaws with found-footage-filmmaker Craig Baldwin taught him a lot about creative media archeology.
And, really, the original process of capturing these images more than 30 years ago was not unlike the dig-and-discover process of a collector. Many of the photos were taken with a hand-held flash in the darkest of clubs, revealing gestures, moments, movements, and shadows that one couldn't naturally see at the shows. Talking about the process of shooting in these dark spaces filled with jumping bodies, Bill told me, "I was like a miner with a headlamp." The result of these early digs is a sea of fascinating glimpses—a mix of stark, straight images and kinetic, off-kilter compositions showing as much of the crowds and corners of the scene as the bands.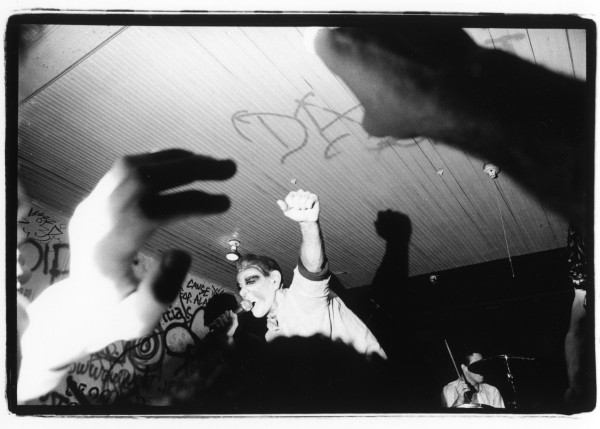 The "problem" referenced in the title of the series and upcoming book? It might be a nod to the dysfunction of these frenetic clusters of hard edges in transition. Or to the unique, outsider nature of the Texas scene, far away and far different from those in New York and L.A.. Or maybe it points to the societal problems that created such magnetic, anarchical gatherings. It could be a joke, or a serious comment, or an echoing middle finger. Or all of the above. Personally, I don't think the provocative title makes a statement as much as it plants an open question in the middle of these black and white reflections­–maybe the best ever question: What's the problem?
Houstonians have the opportunity to see Bill Daniel and his work in raw form at two "Introducing The Texas Punk Problem" events at Gallery Homeland next weekend (Friday and Saturday, June 7 & 8). Bill's photos will be on display, along with a bunch of Texas punk ephemera. The new book The Zone System, mixing his early-80s skate photos with text from photography manuals, will be available. And he'll be screening rare music films–including his own 16mm films of The Butthole Surfers performing at Houston's Maceba Theater and Sonic Youth performing outdoors in downtown Houston (both from 1987), as well as ultra-rare footage of The Huns, The Avengers, The Next, and a bunch of other bands. There will also be live music and DJs both nights.