Anne Ferrer is quoted as saying, "J'aime la vie. I love life. I am a happy person and if I can share that, my life is worth something." She's Parisian. The contemporary art world is cynical and jaded. Maybe it's just me, but it seems the art world tends to distrust happiness and joy in art. We automatically look for subversion or irony.
Ferrer's work reminds me of carnivals and cupcakes. It makes me smile. But underneath the Cirque du Soleil atmosphere, there is something hallucinatory about experiencing the work. It's like walking around in Johnny Depp's Wonka candy forest or waking up after a fall down the rabbit hole. The sculptures' large scale makes me feel small, like Alice after eating the magic mushroom. The organic, hybrid forms are undeniably sexual, pregnant with their overinflated sensuality. The Easter egg color palette combined with the sculptures' mutant shapes make me think of gluttony and decadence, but they don't scream ABJECT like Paul McCarthy's monumental, flying shit sculptures. Ferrer seduces us with cotton candy color and sexy, lacy trim.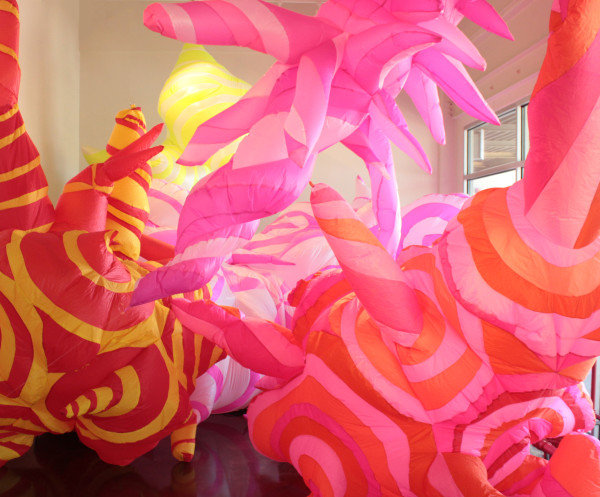 Brightly colored, nylon sailcloth sculptures touch and crowd the gallery's three smaller rooms. The largest sculpture, sometimes shown outdoors, barely fits in the main gallery and seems constrained by the architecture. Outdoors, the piece might connote freedom in relationship to either an urban or natural environment, but indoors, the gallery architecture domesticates the work. The lack of physical space around the work creates a heightened tension, as if the forms are resisting their confinement.
The monumental pink sculpture in the main gallery has a plastic porthole to allow viewers a glimpse inside. The view infused me with a deep desire to crawl in, to hide and enjoy the pink, blissed-out world, never mind that it would not hold my weight.  I really enjoyed sitting in Ernesto Neto's multi-colored net playhouse sculpture in Cuddle on the Tightrope, his recent show at the Nasher Sculpture Center.  Reviewers compared his sculptural installation to a child's playground but, unlike Neto, Ferrer didn't create a physical playground. Her work instead sparks the imagination, imbuing a desire to play.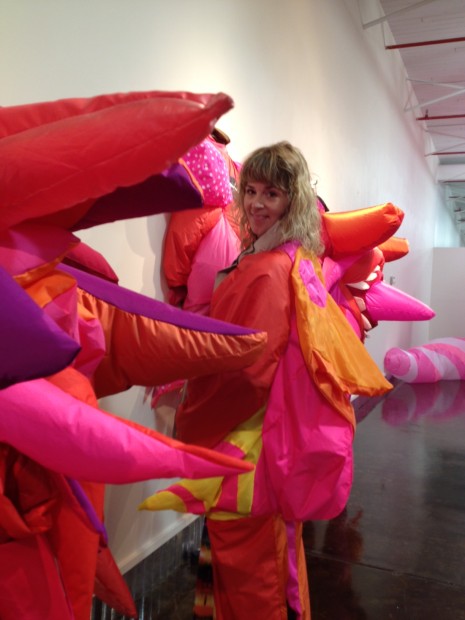 In addition to the giant inflatable sculptures, Ferrer created a series of inflatable raincoats. I had the pleasure of trying one on and immediately starting fantasizing about making a video performance wearing it. The coats reminded me of the costumes in John Bock's absurdist performance videos. Bock and his fellow performers wear constructed forms that impede their ability to interact with each other and their environment. Like Bock's forms, Ferrer's coats are fantastical and would interfere with the wearer's ability to perform normal activities. I envision walking down the street wearing a Ferrer coat, looking like a curious creature from a Dr. Seuss story. Or perhaps I could box or wrestle an opponent, generating a Brechtian absurdist spectacle. Like the sculptures, the coats inspire mirthful escapades in my imagination.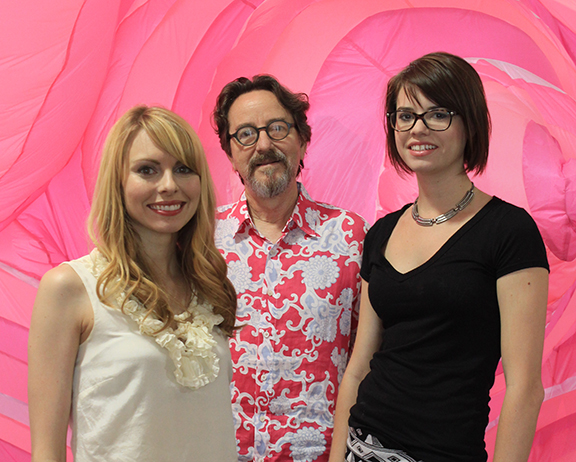 Eddie Stafford founded the Red Arrow Contemporary in Dallas in February 2012 with his two daughters Erin and Elissa. All three are professional artists and share the curatorial responsibilities for the space. Their focus is on contemporary art, yet unlike most galleries, they do not have a stable of artists. This gives them the ability to take risks and show work from emerging or lesser-known artists or even work that might not always sell. Their first show featured street artists and included Shepard Fairey and Banksy. Recently they hosted an exhibit of the "Best of the MFA" students in the Dallas/Fort Worth area. The Staffords bring an out-of-the-box energy to their gallery.
The exhibition continues through June 22 at Red Arrow Contemporary, with a closing reception on June 22, from 6-9 p.m. with a performance by Danielle Georgiou donning Ferrer's inflatable, sculptural raincoats.