In December of 1972, John de Menil penned a codicil to his will, detailing instructions for his funeral. Among other requests, he asked for a pine box and named a selection of Bob Dylan songs to be played. I found myself recalling the document while walking through the Menil Collection's current exhibition, Byzantine Things in the World. In the codicil's closing paragraph, de Menil states that this record of directives is not for the sake of pride, but rather that he "just wants to show that faith can be alive."
Spirituality guided and shaped, John and Dominique de Menil's art collection and, as this exhibition makes evident, the de Menil's Byzantine holdings run far deeper than just the impressive (and now departed) Byzantine frescoes. Their personal faith and faith in art remain alive through their collection. However, Byzantine Things in the World tells of another way faith remains alive. Well, possibly alive.
For Byzantines, religious works were active, potentially living things. This is curator Glenn Peers' primary perspective, and he uses the exhibition to suggest a Byzantine mode of seeing.  Instead of attempting to create a historically accurate environment for the works, Byzantine pieces are grouped with art ranging in era and geography—from a Nkondi figure used to hunt spirits in the Kongo, to a faux jewel-encrusted contemporary sculpture mimicking a reliquary. While Byzantine Things in the World struggles to make a succinct argument about Byzantine art, it does stand in stark and fruitful contrast to typical museum presentations. Byzantine pieces weren't mere vehicles for prayer, and they can't be entirely understood by art historical narratives that cast Byzantine art as a pre-Renaissance misrepresentation of the human form, as many textbooks and permanent installations would lead you to believe.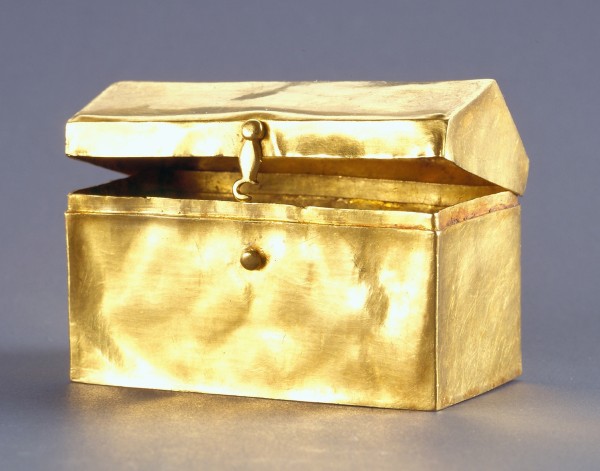 To illustrate Byzantine things as living things, Peers fills one exhibition space with gold and gold-tinted works. Peers explains that Byzantines viewed gold as capable of replenishing itself and animating objects. Featured here is a minuscule gold box, made around 1500 to hold relics—a box of precious metal to hold precious things. To see gold as participating in a faith-driven ritual may seem hopelessly archaic now, but it is also a profoundly ecological sentiment to view the elemental life of gold to be as viable as any other life. When seen alongside works like James Lee Byars' The Halo (1985), a large-scale brass ring, and Mark Rothko's glowing No. 21 (Untitled) (1949), the box defies notions of art as singular and permanent and instead suggests a more unconditional fluidity and ephemerality.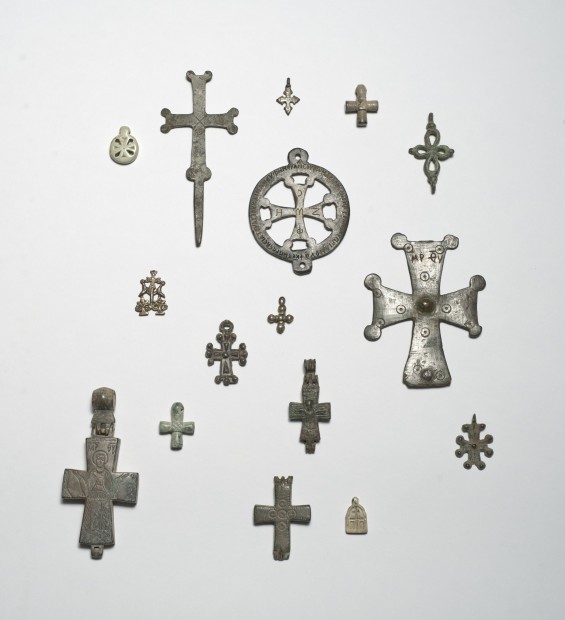 Not only are objects understood to be in a continual state of flux, but also Peers consciously plays with installation tactics to arrive at new contexts and meanings. One space is thematically centered on the cross, a form that Byzantines saw as a constituent building block of the world. Scores of bronze pendant crosses are on display, salon style: the ordinary Christian cross, the Greek cross with equal length arms, the budded cross with rounded additions at the ends, and so on. There is no text that provides this classification; these crosses are abundantly displayed to break with the chronologically and aesthetically centered methods of historicizing artifacts. Removed from both the traditional museum context and their original context, these crosses are better able be perceived as things. Grouped with these crosses is Ad Reinhardt's Abstract Painting (1954-1960), consisting of black and gray blocks of color that shape a multiplicity of crosses. Also included is Jim Love's Crucifix (1958), lit so that its shadow creates a triplicate cross on the wall.  Although contemporary works like Love's and Reinhardt's lose any subversive readings within the context of thingness, when seen in conjunction with the display of crosses, the works create a visual rhyme attendant to the Byzantine belief that the cross can found everywhere at once.
The thematic connection between other works is not quite so obvious, with many groupings remaining an utter puzzle. One section places Robert Morris' Blind Time I (1973) next to the wall size tapestry Le Cheval Rayé (The Stripe Horse) (1725-7), with small 6th century stamps and coins displayed nearby. Hard as I may have tried to understand the reasoning, it remains a brilliant mystery.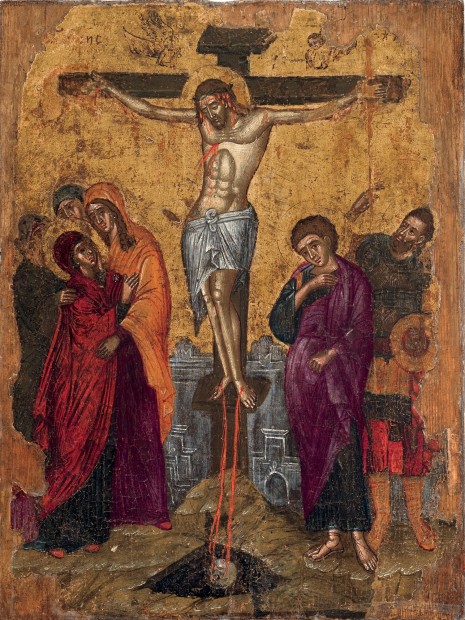 But this exhibition is not presented as a mystery to solve, and one should not try too hard to do so. Once giving in to the Byzantine viewing method, the branch-like quality of the Jesus' blood in Crucifixion of Christ (17th century), and the menacing children gouging each other's eyes out in Entry into Jerusalem (early- to mid-15th century) certainly become more arresting when seen as affective, not passive. Through these things, faith takes on a strange, scary, and evocative life of its own.
The de Menil's collection may have stemmed from their religious beliefs, but as this exhibition attests, belief is not intrinsically religious. Faith is weird, and faith is powerful and, though this exhibition won't convert anyone or animate anything, it will restore your faith in art. In the end, perhaps the strangest thing of all is faith itself.
 Photos by Paul Hester