When James Turrell: The Light Inside closes at The Museum of Fine Arts, Houston in late September, Houstonians won't have to go into withdrawal because they know (or will learn from the exhibition) that there are several permanent Turrell installations around the city. For those who didn't make it up to New York for the installation in the Guggenheim's rotunda, which also closes in late September, it will be about time for a road trip.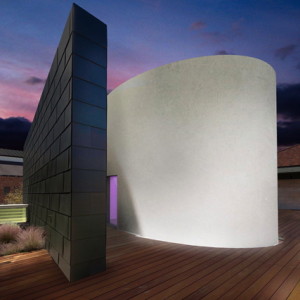 Austin has now added a leg to that journey. Houston's CultureMap reports that James Turrell will be opening a small-scale skyspace at the University of Texas' recently constructed Student Activity Center this fall (most likely in October). "I think ours is a very intimate and immersive piece, more like Turrell's work at the Live Oak Meeting House in Houston," said Andrée Bober, director of the university's Landmarks public art program.
So, once in Austin, travelers may as well head over to Turrell's super-mega-project Roden Crater, outside Flagstaff, Arizona, and then head into Vegas to visit his new project at Louis Vuitton at City Center. For the last leg of the Turrell trip, visit the Los Angeles County Museum of Art, where James Turrell: A Retrospective will be on view through April 6, 2014. Don't get too spur-of-the-moment, though—most of these places require reservations to see the cool stuff.