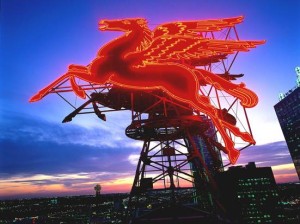 It was iffy for a while because of a neon glass shortage, but a few hours ago, Dallas city officials were told that the Pegasus sign atop the Magnolia Hotel will definitely be switched on tonight, reports The Dallas Morning News.
"The Pegasus sign is a beloved icon of the city of Dallas," adds Kay Kallos, the public art manager in the Office of Cultural Affairs, which manages its maintenance. "It has landmark sign status and is part of the City's Public Art Collection." According to the Magnolia Hotels website, the Pegasus was designated a landmark sign in 1973 and, in 1976, became the property of the City of Dallas (no matter who owns and operates the building).
In 1934, the original porcelain enamel and neon sign was placed on the roof of the 29-story Magnolia building. The building, built in 1922, was the city's first skyscraper and taller than anything west of the Mississippi (and taller than anything in Europe). The sign was created to welcome oilmen to the American Petroleum Institute's first annual meeting. This was pre-OTC, but apparently no less flamboyant.
Known as the "Flying Red Horse," the sculpture was actually replaced by a replica in 1999 for the turn-of-the-century New Year's festivities. But, the Pegasus, turned off since March due to fading lights, will again shine bright tonight.