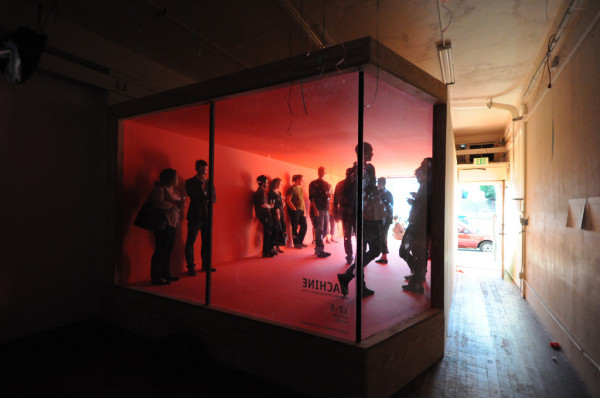 CORE program alumnus and director of the LA-based Machine Project, Mark Allen, comes to Houston this week pulling along a big bag of tricks to unpack—three nights + three venues of Machine Project memories + drawings of his own besides!
As a primer, Machine Project is a storefront space in the Echo Park neighborhood of LA where events are staged about two times a week—anything from scientific talks to poetry readings to musical performances to competitions to group naps and cheese tastings. Machine Project is also an educational space, loosely called, instructing on things like: "electronics, sewing, pickling, computer programming, car theft and so forth." As a third leg of cheeky awesomeness, Machine Project is also a group of art/performer collaborators who get invited by museums to bring this array of identities to the public.
Here's the rundown on Machine Project's Houston take-over:
Thursday night, April 17, Machine Project will be at MFAH screening some of their experimental films which include such themes as "pizza, babies, psychics, swimming pools, sonic massage, trapdoors, an opera for dogs, plants on vacation and a bunch of other stuff." This movie mash-up goes down at 7 pm at the Glassell School of Art..
Friday night, April 18, from 6 to 9pm, the Brandon is the opening Other Ways of Looking At It: The Graphic Design and Films of Machine Project. This is the first retrospective of the screen prints and performance documentation that the collective have made over the last 10 years.
Saturday night, April 19, Mark Allen, the man behind Machine Project's curtain, is opening Mark Allen: Drawings and Notes, 2013-2014 at Front Gallery from 5-7 pm. This show is a collection of more than 50 drawings in ink or colored pencil that Allen has made over the last year and a half, and will be his first show in Houston in 15 years.