I'm not proud to admit this, but I tend to forget the Dallas Contemporary exists.
Let me back up a space: The Contemporary, under the directorship of Peter Doroshenko, has done some admirable toggling between bigger national names and local artists, and I think this is a great strategy. I think every Dallas art institution should be doing more of that: by showcasing the best of local art in one part of the building while a brand-name show is happening in another is a fantastic way to help our region take its own artists more seriously, and to get people thinking about how our area is indeed capable of creating culture, not just importing it.
This kind of programming could make the Contemporary the most engaged and engaging art institution in the city, if not the region. And yet after nearly four years in its new form, and at its new location, with its new director (in other words, with all things in place for it to really start to resonate), it's forgettable. It feels like the Contemporary occupies a whole different strata or universe or even dimension. As if the Dallas Art Scene Proper is kind of like a family of nascent well-meaning academics who realize they should be polite and attend the wedding of their Kardashian cousin, the Contemporary.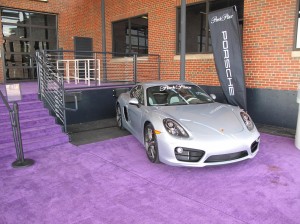 It's a designer-DJ-cocktails kind of place during openings, and a big subsection of Dallas loves this kind of thing. The focus is on the "good time," and getting photographed by Paper City, not on the art. This gets big buzzy crowds through the door, and big buzzy crowds look impressive: open bars and loud music and stanchions and Porsches parked out front. The Contemporary likes street artists, and designers, and fashion photographers, and makes a show of showing these things. I get that openings, that art, might be moving in this direction nationally and even semi-permanently, given Miami Basel, and VIP vernissage events and Russian oligarch money and such. The old art-world establishment is letting this happen because that's where the new money is.
It's a shame that this kind of atmosphere is a fundamentally unserious one, because Dallas as a city often struggles to be taken seriously (it would be cooler and more dignified if it could just take on some of Houston's Gulf-coast eccentric "we really don't give a damn what the rest of the country thinks about us" attitude). The city spends a lot of money on trying to impress outsiders and visitors.
When one reads the names of the Richard Phillips show's sponsors on the wall of the Contemporary and checks them against the paintings' owners on the wall tags, it looks like the place is somewhat for rent to international galleries or collectors to stage shows for their favorite artists: pay for play, as it were. And while other more established institutions might accept some money from galleries and collectors for catalogs and other expenses—this model is not new—these other institutions also at least endeavor to put on carefully curated exhibitions in the larger and historical sense.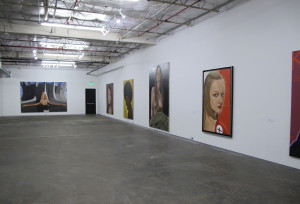 But the Phillips show at the Contemporary, so far the only solo show of his work in a U.S. institution, doesn't feel like a real show to me. It feels like an art moving company's weigh station warehouse that happens to store some work on the walls while it awaits assignation elsewhere. I kept picturing giant stacks of shipping crates teetering in the alleyway out back. (This show is not the only victim of this syndrome at the Contemporary. And I'm not at all opposed to gallery spaces that aren't white cubes; that's not the problem here. The Contemporary's space is a problem, yes, but there are ways to fix it.)
This show was clearly expensive to produce. Shipping in that much big work internationally isn't cheap, though maybe more of this money could have been spent on a curator to shape the show, doing Phillips a favor by selecting only the better work, because he could use some editing. (If there was a curator, I couldn't sense it. Perhaps bombast was the point, but instead it just felt rudderless.) Ship in less but then produce a catalog, and do some strategic programming and discussions around the show? The Contemporary often feels intellectually flimsy, like it doesn't have the rigor or staff to deal with anything other than presenting the "wow" factor and hope everyone thinks it's great.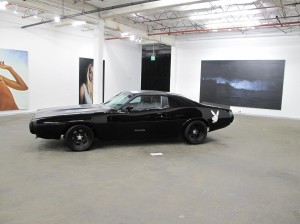 This is a retrospective of sorts, which requires some volume, but there's no real framing of Phillips' career or contextualizing going on. The work begs to be seen as controversial or provocative, so some people might have appreciated a stab at this kind of conversation whether or not the work can hold up under scrutiny. (I personally think overthinking Phillips' work is a waste of time.)
The Phillips' show is paired with a Julian Schnabel show in the other half of the building. Though the Schnabel wasn't a retrospective and looked self-selected to me, it also looked like Schnabel had mostly just painted himself a lot of props for the sake of his art career. Yes, he's a marvelous filmmaker, but really. But it also felt like an instantly and weirdly more serious show than the Phillips one.
I don't think every show and institution in Dallas has to be deadly academic and self-serious all the time, and they're not. But I feel like the city's one real kunsthalle could be a player—maybe the biggest player— in helping to shape Dallas' understanding and dialogue around art. Dallas is meant to be getting more sophisticated all the time, is it not? I'm just going by the way kunsthalles in other cities seem to operate and resonate and connect up to the rest of their art scenes.
I feel the Contemporary is in danger of letting itself get stuck as the Design District's party headquarters. Phillips, with his Studio 54 throwback bacchanalian excess and his bad-boy Clockwork Orange perviness, is a good match. Of course I could be totally wrong in overlooking the Dallas Contemporary. It might be a reflection of the cutting edge, of the way the whole art world is going. In this sense Dallas is indeed helping create a new art culture. If that's the way it's going to be, then so be it.