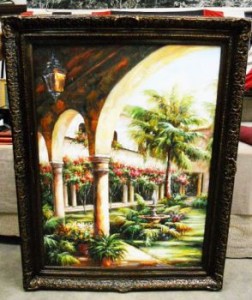 If a man's art collection is a window to his soul, then one that recently hit the auction block in Houston leaves us scratching our heads. It turns out that Houston's notorious late hand surgeon, Michael Brown, was an art collector. Here we might insert sayings like "The heart wants what it wants" or "I don't know much about art but I know what I like" or "There's no accounting for taste"; the hodgepodge of paintings might or might not tell us something along those lines about the man beyond his troubled criminal past.
The high-profile (through his TV commercials, anyway) Brown died last year while in a coma after a semi-botched suicide attempt. He was about to start serving jail time for assaulting a flight attendant, though that charge was just the latest in his history of abuse on past wives and other erratic behavior. After his death his houses and storage space were accessed and it turns out he owned a lot of paintings, many of which have been auctioned off as part of bankruptcy proceedings in recent weeks.
According to Houstonia Magazine, Brown's favorite painter was "a Russian woman calling herself Anastasia the Great who specializes in customizing the interiors of luxury cars and was recently arrested for stealing items from Brown's estate." He had evidently packed his various homes with this kind of thing; besides the work of Anastasia, he had pieces by all kinds of questionable figures who tended toward pastiche of other kinds of work, like old Dutch still lifes, Rubens, and cityscape Impressionism. You can see some of it here. I would suggest the work was on par with Thomas Kinkade but without the gravitas. (That is a joke.)
At any rate, the collection has been sold off at Houston's Webster's Auction Palace, so people inexplicably did indeed buy it.
(photo: Houston Record Chronicle)