If the materiality of paint and substrate is your thing, three current Austin exhibitions give you an opportunity to dial in your desired level of production value.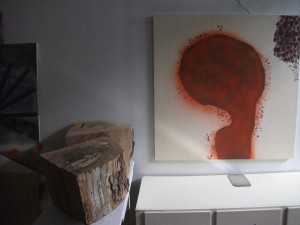 Andrew St. Martin at Test Tube
No-Fi, DIY, raw, gritty: Andrew St. Martin's solo exhibition Memory Tag(s) uses found materials and paint to activate the unusual art space tucked away inside a wood-clad structure at Tillery Park. The title of the show ties the works to nostalgia, and a sneaky Polaroid reinforces it, but aside from this, viewer interpretations are wide open. The paintings are far from representational, but slightly too loose to call geometric abstraction.
The most interesting aspect of the show is the smooth transition from flat works to sculpture. Paintings exist off the wall on furniture-like surfaces, and large stumps paired with weather-worn timbers lean against corners while supporting other works and acting as art objects themselves. Despite this approach, I'm afraid Crash Alchemy stole the show with an aerial dance performance on opening night.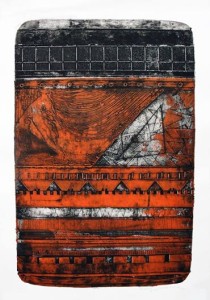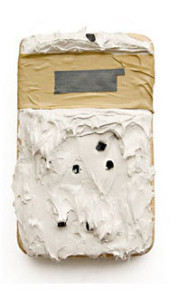 Raul Gonzalez and Julon Pinkston at GrayDUCK
Lo-Fi, cleaner craft, artists with a budget: Raul Gonzalez and Julon Pinkston's show Undetermined Matter takes the physicality of their medium in a related but more controlled direction. Gonzalez is the closer of the two to St. Martin, creating works out of various construction and craft materials, blurring these through coats of paint. Pinkston's works have a similar feel, but are tricksters of sorts: thick acrylic paint masquerades as duct tape, bandages, carpenters glue, etc. It's an apt pairing. Pinkston's intensity activates Gonzalez's work and Gonzalez creates an environment in which Pinkston's camouflage becomes more convincing.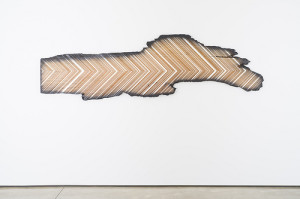 Jason Middlebrook at Lora Reynolds
Hi-Fi, überposh, bankrolled: Line over Matter is a solo exhibition of Jason Middlebrook's pinstriped geometries on expensive freeform woods like poplar, butternut, and ash. While the art at GrayDUCK and Test Tube presents paint as a thing rather than illusion, Middlebrook's pieces do the reverse, erasing the physicality of things (wood, grain) through sanding and application of precisely painted geometric pattern. There's something to be said about his polish — the dead slabs pulse and move in a way hard to realize through lesser production. Conversely, it's hard to sink into the works past their decorative qualities, though the method of display (not unlike St. Martin's leaners) solves the problem of solely imagining them hanging behind a spa reception desk.