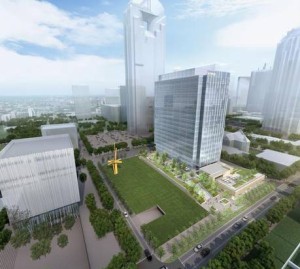 The five-acre area behind the AT&T Performing Arts Center in the Dallas Arts District is being developed by Craig Hall, a DFW-based developer who is married to Kathryn Hall, the former U.S. ambassador to Austria.
The two-phase project, called Hall Arts, will be a mixed-use site on two city blocks with two restaurants (including Dallas super-chef Stephen Pyles' new place) and another yet-unnamed restaurant, as well as various public sculpture projects by yet-to-be-determined Texas and international artists. The first phase is scheduled to open sometime in 2015.
According to the Dallas Morning News, "Because the Halls own wineries in California under the rubric of Hall Wines, they cannot legally own a building in Texas that contains a restaurant that sells alcohol. So, they have given up being the landlord of Pyles' restaurant and the other one to the nonprofit Communities Foundation of Texas."
The foundation will take money collected from rent on the restaurants and package and give out grants to Dallas art organizations. The Halls will oversee the initiative and say that all kinds of art-based non-profits, large and small, will be considered.
This isn't the Halls first time to promote art publicly. Craig Hall already owns the Texas Sculpture Garden at his Hall Office Park in Frisco. It's open to the public and features 165 works by local and international artists including Frances Bagley and James Surls.
(photo: Dallas Morning News)