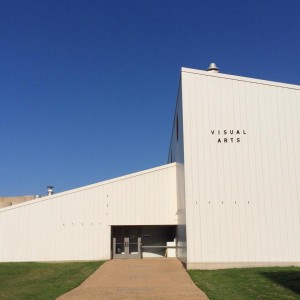 After months of art community protest (and in the wake of the Rice Art Barn demolition) it looks like the administration at University of Texas at Dallas has stayed the pending execution of the campus' beloved Visual Arts Building, a.k.a. the Art Barn, the rambling, open-plan metal building that has been the heart of UTD's art department and exhibition space since 1976, and was most certainly inspired by the 1969 Rice building.
In the wake of opening a new $60 million ATEC (Art and Technology) building to replace it (and you should understand that UTD's administration does little to meaningfully separate the two disciplines), the powers that be have conceded that the new space doesn't make room for sculpture or printmaking. Furthermore, as the beleaguered UTD art community has pointed out in the years since the announcement of a new building was made, the ATEC building doesn't have a dedicated space for discrete exhibitions. The community fears that losing the Art Barn, an AIA-award winner, is losing ground for art on campus, and all the history that goes with it.
The administration states that bringing the Art Barn up to safety code for longterm and heavy use at this point is expensive, and has played with the idea of scrapping it but building something new to replace it. But for now the Art Barn stands and will be in use (minus the mezzanine level, which is boarded up) this fall. It sounds like finding the funds through donations and like would be mandatory to keep the Art Barn standing long term.
(photo: Dallas Morning News)