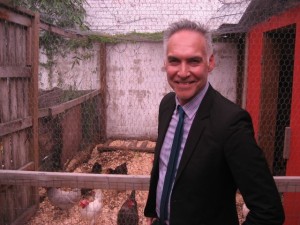 The Galveston Arts Center, still in the midst of a years-long capital campaign for renovating its original building, has hired Elliot Lessing as interim director, and in his few weeks on the job he's curated a show that will open in GAC's current space in July.
Lessing, also an arist, comes to Galveston via Los Angeles and San Franciso; he's been an independent curator for 14 years and has experience in non-profit and artist-run spaces, primarily in San Francisco.
Lessing says of his expectations for his time at GAC: "We are aiming to flip the gallery experience from transactional to transformational. I believe galleries are sacred spaces where people can reconnect with their higher selves. A place where people can be reminded that life is cosmic and spiritual. I often tell people that artists and art professionals are not in the business of art. If we are doing our job properly, we are in the business of hope! Art should create a connection and an emotional response. In many ways we are actually in the healthcare field. We are about taking care of people's spiritual, emotional and intellectual well being."
Those are some words, right there.
GAC's first show under Lessing is an international group show called "Palace Revolution" and will feature, among others, Bill Barminski (Los Angeles), Andrea Geyer (New York), Floria Gonzalez (Mexico), and Paul Moore (Belfast). It opens Saturday, July 12.
UPDATE: The GAC's previous show, a two-person exhibit of prints by Luis Jimenez and Ron Adams, had been scheduled to run through July 6, but was taken down early and the works returned to the respective galleries without notice, which means that the GAC did not have a show up over the 4th of July weekend, one of their busiest for visitation during the year. Meanwhile, the GAC's curator, Clint Willour, has been away on medical leave and his return date has yet to be announced.
(photo: Galveston Arts Center)