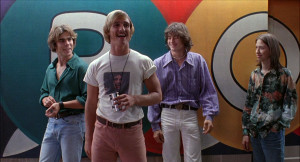 I watched "Top of the Lake" recently—the Jane Campion series about a missing kid in semi-rural New Zealand—and like the recent "True Detective" on HBO, its setting was as much a character as its acting leads. By the end of the six-episode run I felt I knew more about the psychological undercurrents of the place than I had ever expected, and whether or not it's totally accurate or just one writer's take, it is a thrilling kind of geographical mind expansion, and it made me more interested in New Zealand than I have been in a long while.
I felt the same about Baltimore after watching "The Wire" (of course), and about Albuquerque after watching "Breaking Bad." I feel that way with almost any movie or TV show that features a compelling human story set in an unexpected place. These kinds of narratives become unwitting travelogues for me as much as they are portraits of people, but they have to be both to tell the whole story.
Good narratives, fiction and non-fiction, let the idea of place and its effect on its people surface both implicitly and explicitly. Movies (and books before that) have always done it; television and its explosion through the internet is a really adroit delivery system for this kind of geographic storytelling because through extended arcs viewers get to settle into these unfamiliar communities and get attached.
Take your pick from the new golden age of television, but our nation's recent collective sense of different places has been heavily influenced by the small screen, which is even more interesting when we're looking at stories set outside of the overexposed New York and Los Angeles (sometimes it can feel like those places take up an oppressive chunk of our viewing time).
The invested viewer can develop a pretty textured view of New Jersey through "The Sopranos," or of Utah through "Big Love." Whole generations of kids in gated communities in Trophy Club, Texas might realize that anywhere a dart can land on a map can theoretically throw out an interesting story peopled by complicated characters.
Besides the fact that I'm ready for a good drama series set in Detroit (come on already), I'm also starting to get jealous of all these other places that are taking up the popular imagination of viewers. I have friends from England and Australia who are obsessed with "Friday Night Lights," but that series ended in 2011. Of course I'd like to see Texas get another shot on the small screen.
Some might claim Texas is currently just too shallow or corny or confused to bother with, but there have been some great depictions of Texas besides "FNL" over the years, and I'm not counting the old or newer version of the show "Dallas." I've always loved "Dazed and Confused" and "Urban Cowboy" and "Bottle Rocket." "True Stories." "Office Space" and "King of the Hill" and "Beavis and Butthead." (We should crown Mike Judge.) "Paris, Texas." "North Dallas Forty" and the original "Texas Chainsaw Massacre," of course. There are many others.
But I so much want to see a new reflection of our state right now, because I feel like good writers and filmmakers could show us something about what's happening here that the rest of our creative people could get hold of and use. It can spark some momentum, or perhaps give us permission to be angry or wry or surprising. We need new myths and legends and heroes and anti-heroes so that artists who live here won't be confused about how to feel about being here. In this mess of growth and redistricting and drought and such, fictional narratives can help us find what's most interesting and true about a place and its people. Our stories are often the most accurate historical illumination of our time after we die.
There's material here. Long before he created "True Detective" for HBO, Nic Pizzolatto wrote "Galveston," an acclaimed novel populated with skeevy desperate people. Skeeviness makes for good TV, as do corrupt politicians; Texas is drowning in them. Big business and big money vs regular people (fracking industry). Conflict on TV is gripping.Then there are the hip-hop scenes in Houston and Dallas, and wildfire fighters across our dry plains. Is there not a profound series to be made about the unfolding tragedy of what's happening on our border with Mexico?
There's also all kinds of stuff ripe for comedy (Portlandia = Austin). McMansions, religion, plastic surgery. Texas is a huge place; there's plenty of good, bad, and ugly. Ann Richards and Molly Ivins and Bill Hicks were great characters from Texas. Come on. There are stories here.