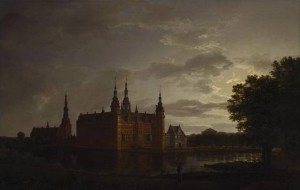 The Dallas Museum of Art, under the direction of chief curator Olivier Meslay, has acquired a masterwork by Danish Norweigan painter Johan Christian Dahl (1788-1857).
"Frederiksborg Castle by Moonlight," from 1817, is a large painting depicting its namesake, which was a residence for royalty in the 17th century. Experts estimate its value at around $5 million, though no comparable work has been on the market in years. It had long been considered lost and hasn't been publicly shown since 1817.
This is considered the most important work by Dahl in an American institution. This month it will join the rest of the DMA's small collection of other 19th-century Western and Northern European paintings in the galleries of the permanent collections.
Correction: Dahl was active in Denmark and later Germany, but was born in Norway.
(photo: Dallas Museum of Art)