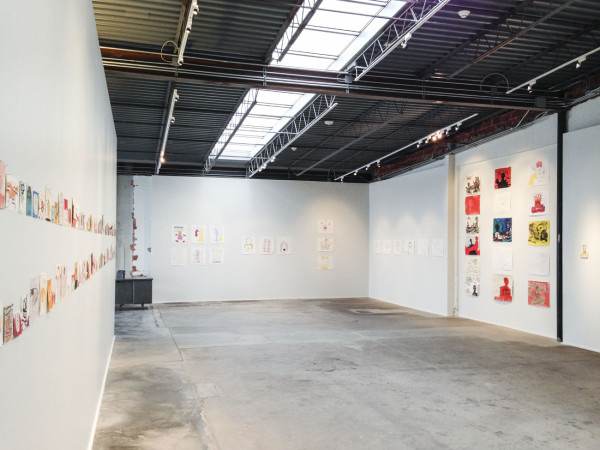 Chuck Webster's exhibition at Marfa Contemporary consists of a large number of drawings. I don't know how many exactly, but the precise figure is irrelevant. They are either small or medium sized. Some are done on old book pages. Most involve crayons, I guess, or what looks like crayon. The best ones are collaged from cut-out colored paper. In general, they are portraits of blobby organic shapes, or diagrammatic depictions of architectural spaces with child-like scrawls of text. Some letters are drawn backwards, although I suspect that Webster knows this.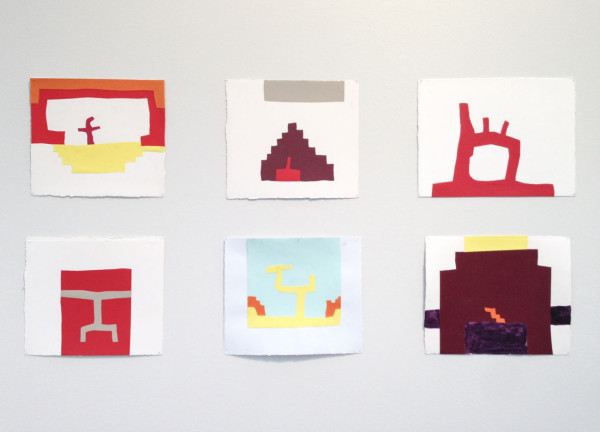 This exhibition originated at Oklahoma Contemporary Arts Center, and traveled here, with additional drawings completed and added in the final days before the opening. Thus we get several Marfa-centric works referring to the Flavin buildings at Chinati. These drawings feel like a touring musician telling the audience, "It's great to be here in X, the best city on earth!"
Looking at the paintings on Webster's own website, there may be some rough-hewn and fought-for territory marked out by them, beyond being derivative of Carroll Dunham's pictorial language. But these works on display do not demonstrate compelling draftsmanship – picture crayon-in-clenched-fist – or some other witty spirit that made me want to spend more than a few seconds with each one. Which, evidently, neither did Webster. I'm surprised to be writing this, but Joshua Abelow's version of "fast, copious, and indifferent" at least lets the viewer in on the joke.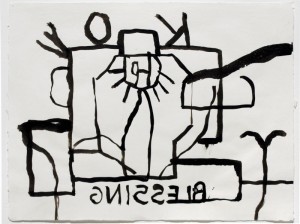 As long as there's been such a thing as the avant-garde in art (should that phrase be in the past tense?), there have been artists aiming to provoke by doing little and claiming much. It's a proud history, and the value of the provocation is not in dispute. In the case of Surrealist automatism, the unguided hand revealed a hidden inner life; for Fluxus, their anti-art gestures functioned as a polemic against the artificiality of official art methods. These traditions come down to us as a promise only half-ironically re-phrased by Bruce Nauman: The True Artist Helps The World By Revealing Mystic Truths. But not every scribble can be sweet-talked into a masterpiece, or even a work worthy of public consumption. Instead of blithely asserting his artistic freedom to be free, USA!, Webster might imagine his next group of drawings as works to be seen, not merely hung.
Chuck Webster: woven with a silent Motto will be on view at The Marfa Contemporary through August 17, 2014