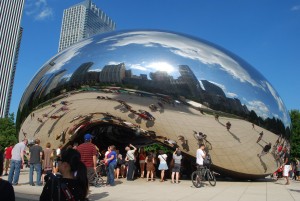 Via the Fort Worth Star-Telegram: The City of Fort Worth redirected some of its 2014 bond money from art into transportation, so its Public Art Commission is dealing with this $2.26 million loss creatively. Instead of breaking the remaining money up into countless little packages, it is "setting aside $1.66 million from the streets portion of the bond to go toward an 'iconic' piece of public art that would represent all of Fort Worth."
Gregory S. Ibañez, chair of the Art Commission, gave a more detailed explanation of the funding proposal, which can be found here. In essence, this project wouldn't take off for a few years because the public money needs to be matched (or topped) with private funding, which needs to be raised.
On August 11 and September 8, the Commission will take the initial outline of a funding plan to the public to get its input, and in October will decide on and present a more coordinated plan.
The Star-Telegram uses Chicago's Millennium Park public sculpture Cloud Gate (aka "The Bean") by Anish Kapoor as a model of iconic public art, though concedes that its $23 million price tag makes it quite a bit more ambitious than what Fort Worth might undertake in the near future.
(Photo: Cloud Gate by Anish Kapoor, Chicago, http://gradsabroad.blogspot.com)