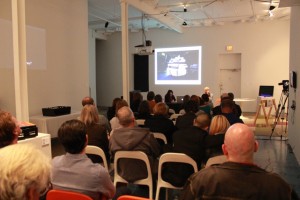 Starting later this month, UTD's Artist Residency, CentralTrak, will host a three-part workshop for artists "who wish to hone their skills and receive guidance while professionalizing their practice." Each workshop is led by regional professionals who know their stuff: visiting writer-curator Sally Frater, photographer Melissa Tran, curator Alison Hearst, and gallerist Danette Dufilho.
The workshops are free but interested artists should sign up for a space by emailing [email protected]. Here is the schedule:
Writing Your Bio, CV and Artist Statement – Tuesday October 21, 2014 7-9 pm
This workshop will guide participants through the steps of drafting their artist biography, CV and artist statement. The session will review what type of information should be included in these documents and how they can be used to communicate crucial information about artists and their practices. Participants should come to the workshop with a printed copy of their CV and a printed rough outline of their artist statement. Led by Sally Frater.
Documenting Your Work – Tuesday October 28, 2014 7-9 pm
In this session participants will be provided with an introduction to art documentation. Participants will receive helpful hints in order to learn how to photograph and present their work to juries, submission committees and applications in the best way possible. The session will cover topics such as lighting and basic Photoshop. Led by Melissa Tran.
Portfolio Review – Monday November 3, 7 -9 pm
Artists will have the opportunity to have their work reviewed by a Dallas/Fort Worth-based curator in a 15-minute session. Participants should come to the session prepared to discuss their practice and should bring examples of their work in a portfolio, on a flash drive, CD or DVD disc and should bring no more than 15 images/ examples of their work with them. Prior registration is required and space is limited, participants are expected to arrive to their scheduled session on time. If you attend the first two workshops, you will have priority registration for the Portfolio Review session. Led by Alison Hearst, Danette Dufilho, and Sally Frater.
More info on the series and those leading the sessions can be found here, and CentralTrak's website is here.