Richard T. Walker throws little rocks at Fender Telecasters in the open desert, and though the work is lovingly visual, he knows that his sound edits are where the magic happens. Not that the American West needs any help being seductive, but the artist's reverent meditation on this landscape is enhanced dramatically through the sounds he creates both percussively on location and through his visible movie jump cuts. The soundtrack this produces is the drug that lets us join him out there.
Walker's "the predicament of always (as it is)" is a two-channel video installation on at the Contemporary Austin at Laguna Gloria. Walker's splices of the sounds being made in the foreground of his landscape shots—the pinging of stones off of guitar strings, though rocks hit drums, too, and there's field ambience captured by old-school tape recorders he perches on boulders—are incredibly precise. He cuts and sustains and volleys and parries with the deftness of the best movie trailer editors, and the skittering effect is both lulling and symphonic.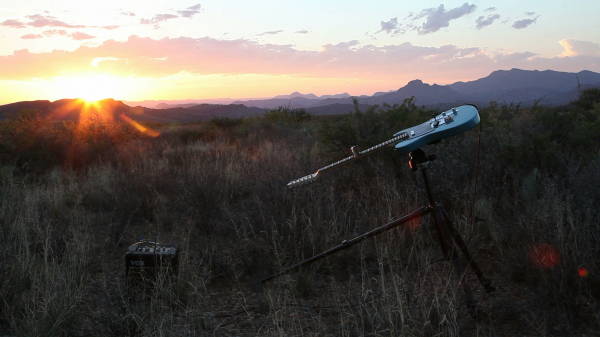 It makes a cohesive composition—a song, actually, complete with building tension—in which we watch every tiny sound edit happen, no matter how split-second, and there's some wit in that. And there's knowingness in his choice of Telecasters and little Vox amps as instruments: he's looking for some twang and retro Morricone, but he doesn't overplay that angle. He's out of frame when he throws the stones—they just lightly arc into the picture and bounce off the strings—though there are short clips where you see the back of him as he carefully selects pebbles from the ground. So the human-made randomness is controlled through edits, but Walker isn't interested in controlling nature. This is a language he's creating to commune with it. You can tell he does a lot of this communing. There's an overall relaxed confidence to his presence out there, even as his chosen setting nods to the glory of Casper David Friedrich.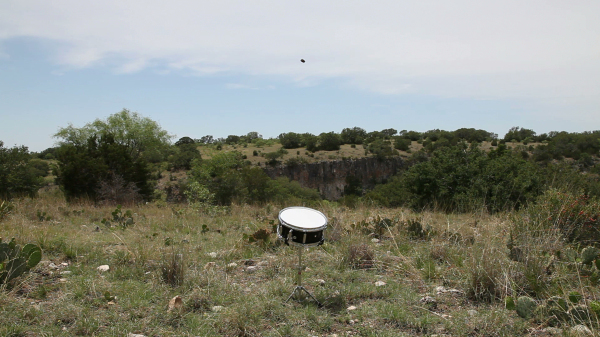 The two adjacent screens fill up a darkened room in an outbuilding on the grounds at Laguna, and when you walk into it the music is instantly beguiling. The visuals—Walker shot the wide landscapes throughout the American southwest, including the Hill Country and Big Bend—are indeed enveloping and comforting to those of us who love the scrubby, rocky desert, or at least romanticize the idea of it. (Walker is based in San Francisco but he's British, so there it is.)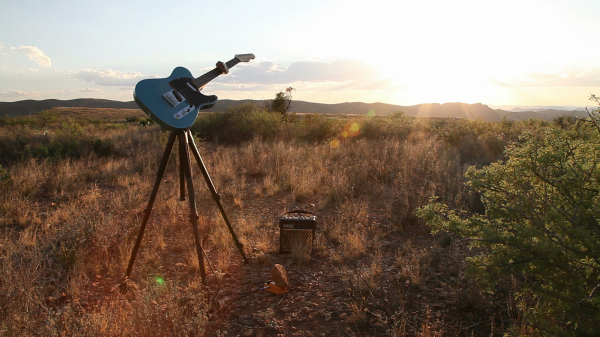 Despite his lightness of touch, for me the effect was melancholy, if not haunting. Walker's take on this untouched natural world, shot in high definition, is sublime; you can practically smell it. I don't hike, though I am addicted to walking, so after I sat through it I longed to walk out the door and just keep going for days. Laguna Gloria's nature-heavy setting on the Colorado River only heightened the longing. In fact, more than a week after viewing it, I'm making plans with a friend to hike the Edwards Plateau. I'd say Walker hit a low E string deep in my bones.
Richard T. Walker: "the predicament of always (as it is)." Through January 11, 2015 at the Contemporary Austin at Laguna Gloria.