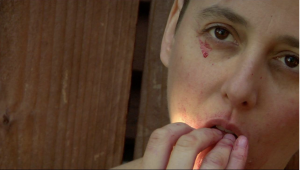 A.L. Steiner–member of Chicks on Speed, co-founder of Working Artists and the Greater Economy (W.A.G.E.), and otherwise noteworthy multi-media artist superstar–will be on hand to speak about her work at SMU in Dallas this Wednesday at 6:30 p.m.
Steiner's career is on a roll, and what she has to say about her work and (maybe also) her experience in the art world should be illuminating. Her work has been exhibited widely and internationally including at MoMA and the Tate; her last appearance in Dallas was summer 2013 when she and collaborator A.K. Burns visited UTD's CentralTrak for a screening of their feature-length "sociosexual" video, Community Action Center. She is currently professor and director of USC Roski School of Art and Design and a visiting MFA Faculty at Bard College.
Her talk is an installment of SMU's Meadows School of the Arts' Visiting Artist Lecture Series, and it takes place at 6:30 p.m. this Wednesday, October 8th in the O'Donnell Hall in the Owen Arts Center on SMU Campus; admission is free. For more info on the event, please go here or here.