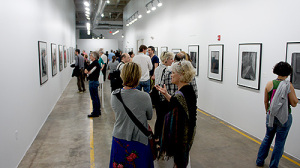 FotoFest is gearing up for its 16th Biennial in spring of 2016 and today it announced this installment's title and theme: "CHANGING CIRCUMSTANCES: Looking at the Future of the Planet." The event, an international biennial of photography and photo-related art (and one of the longest-running and most prestigious of its kind) will take place as usual in Houston, March 12 – April 24, 2016, and this biennial's curators are its new executive director, Steven Evans, along with FotoFest co-founders Frederick Baldwin and Wendy Watriss.
The press release explains this theme best: "CHANGING CIRCUMSTANCES will present artists, experts, scientists, writers, and policy makers looking at the inter-connected issues of climate change, population growth and migration, globalized use of natural resources, capital, and the impact of new technologies. The exhibitions and other programs will focus on the future of the Earth by examining challenges, and by proposing new ideas and solutions."
The events draws hundreds of thousands of visitors internationally over its six-week run. For far more info on its exhibitions and programming, watch this space in the coming weeks and months.