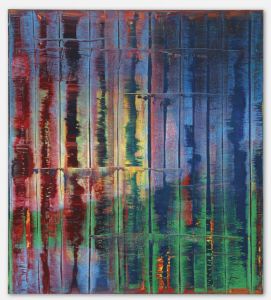 Buried in a recent newsletter from the Linda Pace Foundation is the news that the foundation plans to auction off Gerhard Richter's Abstraktes Bild (774-4), from their collection to fund new construction of a proposed "artful campus", including a building by international architect David Adjaye. The foundation is readying two sites adjacent to their offices in San Antonio across from SPACE and CHRISpark. It is hoped that the sale will net $14-18 million for the foundation at the November 12, 2014 sale at Christie's in New York.
Transition manager Kathryn R. Martin, president of of Arts Consulting Group, Inc. is currently Interim Executive Director, and began work in September, six months after the sudden departure of former director Maura Reilly. According to her bio on the ACG website, "Ms. Martin has helped numerous organizations strategically move through periods of transition and increase their earned and contributed income."
The newsletter insists that the work "was consistently installed in Linda Pace's private residence; it has not been on loan or public exhibition since its acquisition in August, 1993," which seems to mean that the piece, not being on public view much, will be no loss.
Foundation Trustee Kathryn Kanjo also felt the need to explain the sale, which is apparently a sensitive subject, saying, "The collection is a vibrant repository of more than 600 works of art, not only paintings but also sculpture, installations, and videos, including many pieces acquired in the year in which they were created.  Linda had ambitious plans, and was proud that as a result of her investment in the Richter, this one work might someday make her vision for an arts campus possible.  The decision to de-accession a work for sale through public auction will move us to the next step in this process, by establishing a Board designated fund to build the Adjaye designed exhibition space, while continuing all our other mission-driven work."
"Selling at auction is a process that is transparent to the public, which a private sale does not afford." Kanjo continued, "The Trustees of the Foundation take their fiduciary responsibility seriously, and decided that a public sale provides an additional opportunity to share the vision of Linda Pace with a global audience.  Christie's, the auction house of choice, will provide the broadest possible platform for the sale of this rare and beautiful painting."