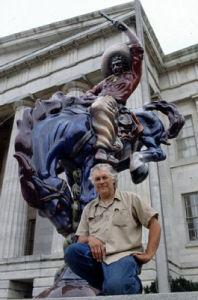 The New Mexico Historic Preservation Division announced yesterday that the home and studio of artist Luis Jiménez are now listed in the State Register of Cultural Properties and forwarded for consideration in the National Register of Historic Places, reports the Ruidoso News. The registers are the state's and the nation's lists of cultural properties and resources considered worthy of historic preservation.
Jiménez was born in El Paso, studied art and architecture at the University of Texas in Austin and El Paso, and taught art at the University of Arizona and later the University of Houston. Jimenez and his wife purchased the adobe school and gymnasium in rural Hondo, New Mexico in 1985. They adapted it to a home and studio that Jimenez worked in until his death in 2006 when a portion of his largest piece, "Blue Mustang," fell and severed an artery in his leg.
"We have preserved a lot of the studio as is so people will understand the influence of Hondo Valley, which gave him the space to think," said Susan Jimenez, who attended the Historic Preservation meeting and has worked to preserve her late husband's legacy. Jiménez's property would join the Georgia O'Keeffe Home and Studio as a New Mexico State and U.S. National Historic Landmark.
(Photo: Smithsonian American Art Museum)