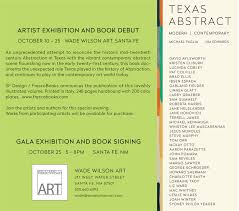 Texas Abstract: Modern/Contemporary, a new picture book featuring the works of 33 abstract painters working in Texas debuts today—in New Mexico!
Published by SF Design / FrescoBooks out of Albequerque and written by Michael Paglia and curator Jim Edwards, the new book "documents the unexpected role Texas played in the history of Abstraction, and continues to play in the contemporary art world today." Wade Wilson is holding a book signing and reception from 5-8 p.m.at their gallery at 217 West Water Street Santa Fe. The signing kicks off an exhibition of some of the artists works.
This is Edwards' second go-round at recapitulating Texas abstraction- in 2007 he curated Texas Modern: The Rediscovery of Early Texas Abstraction, an exhibition of more than 50 paintings and sculptures at Baylor's Hooper-Schaefer Fine Arts Center. Denver-based art writer Michael Paglia has co-written several similar books for Fresco: Colorado Abstract with Mary Voelz Chandler in 2009 and Colorado Landscapes with curator Ann Scarlett Daley in 2007.