Elizabeth McDonald's compelling Contamination|Pollination, now on view now at Pump Project in Austin, is as much about the anxiety of extinction and the fragility of our world as it is about the parallels humans with honeybees.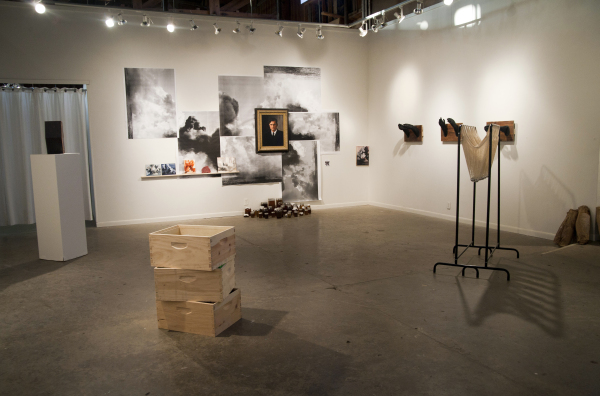 The show is full of large beauties and tiny subtleties; the way Mcdonald draws so many connections between the two species' societies is impressive. The concept of self-sacrifice for the good of the collective is prevalent in bee culture and among humans.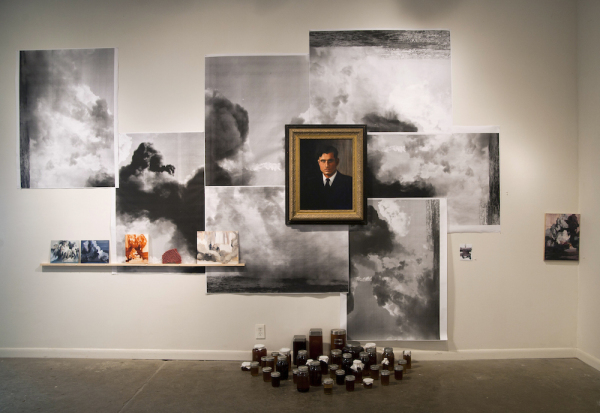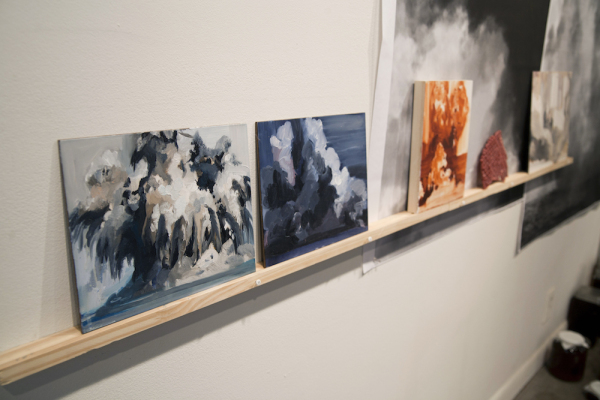 Mcdonald's wall installation Vasili Arkhipov ties the themes of self-sacrifice and hive behavior together. It's a traditional portrait of the Soviet naval officer who, during the Cuban missile crisis, voted against firing a nuclear torpedo at the United States. An unsung hero, he sacrificed his own glory to prevent a nuclear war. Behind the portrait are low-fi prints of nuclear blasts, and paintings of smoke. In front numerous jars of honey, that precious liquid for which an entire bee-lifetime is given to produce a single teaspoon, are a tribute to him from the bees. With smoke and explosions behind him and the glorious honey in front McDonald gives Arkhipov a proper nod to his duty for the hive. The honey jars are probably my favorite part of the exhibition, a gentle and careful symbol of gratitude and interspecies reliance.
Brimstone is a lens mounted into the wall. Inside are a misty blue hive and a floating yellow piece of brimstone, a beautiful and deadly sulfur crystal. To bees, a sulfur crystal is as a nuclear bomb. Sulfur is used by beekeepers to decimate entire hives when a contagious disease is present. All the bees in a hive die so that the disease will not spread. McDonald draws comparisons between the destruction of the honeybees and nuclear war in our human hive. Nuclear war poses the same imminent threat for the extinction of human population as pesticides, disease, and other ecological failures are for the bees.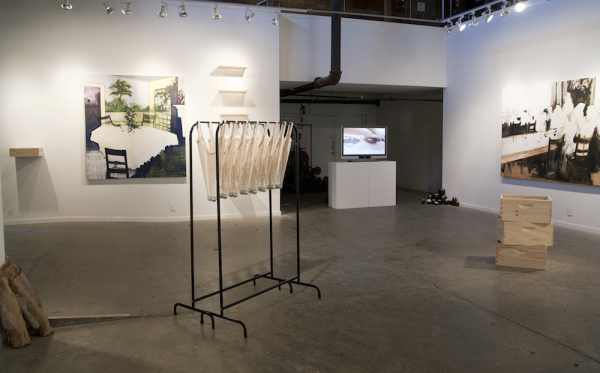 In her video, Contamination, McDonald mercilessly scrapes glitter off her hands and dips them into a bowl of water. Glitter is a contaminating craft supply and makes a sharp symbol of that which impossibly spreads. She's making a comment about how fear, radiation, pesticides, germs and every kind of contaminant are seeping into our ecological systems, bodies, and minds. Like a bees desperately self-grooming to save their own lives as pesticides rain down, she scrapes the glitter from her hands there is a clear anxiety about the discomfort and impossibility of fully removing the itchy bits from her wet skin.
Until now, McDonald has been painting eerie table-scapes. In Pollination | Contamination, she takes a giant leap forward, instilling a deliberate conceptual push. It's a real treat to see her show off the full scope of talents in this new, fresh and complicated exhibition.
Pollination | Contamination is on view at Pump Project in Austin through January 10, 2015. Gallery hours are Saturdays 12 – 5pm or by appointment.