The AAMD, or Association of Art Museum Directors, has published it's first  "Art Museums by the Numbers" report, aimed at informing outsiders of the impact of museums on their communities. It contains some nifty graphics and some interesting facts, drawn from a survey of 220 member art museums in the US, Canada and Mexico.
The average art museum spends just 33% of it's budget on what the survey terms "art-focused activities", like curating, storing, collecting, showing and educating people about art. The other 67% is Administration, building maintenance, and fundraising!
The average art museum spends $53.17 per visitor, but collects only $7.93 in admission fees and sales. The bulk of support comes from private philanthropy. No mention of parking, the other great revenue source for big city museums.
Art museums generate revenue through a surprisingly diverse patchwork of sources, represented here by a colorful bicycle inner tube: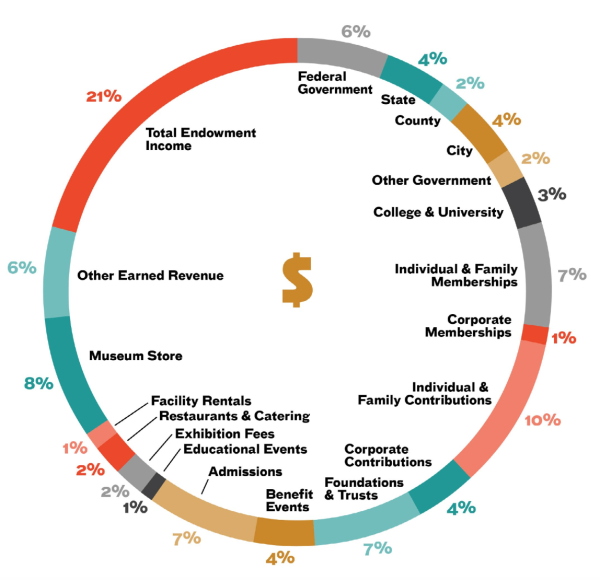 Art museums take what they are given (or perhaps are given what they ask for): they accepted six objects as donations for every one they bought in 2013-2014.
AAMD art museums are great borrowers. Collectively, they borrowed 93,460 objects last year, and loaned out a measly 27,135.
AAMD museums logged 61,457,283 visitors last year, compared to 17.3 million stadium attendees for NFL football games.