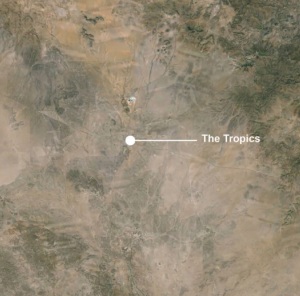 Look out Chinati! The Tropics, a new residency in Marfa that aims to be "the catalyst of the new artistic zeitgeist in Marfa, TX" has opened. "Curated by invitation only, our residents will be selected because of their enlightened vision, radical practices, and progressive methods," says the group's website, but it's difficult to tell how serious they are- the accompanying photo locates "The Tropics" on an aerial photo of the desert-dry Marfa landscape.
According to the site, "the older cattle-ranching and Air Force periods, and the more recent postmodern art period have given way to a new phase of opportunity for creatives," and offers a menu of funded residency options: a Primary Residency, which will grant visitors a $1000 stipend, use of an apartment, and a "branded community event" to mark the end of their stay; week long Capsule Residencies to produce specific events in Marfa, with production budgets of up to $2000; exhibitions in the group's gallery, and product placement in their nomadic boutique.
The Tropics Directors are Alec Michael Friedman, a creative consultant from New York and Ryann Bosetti, a conceptual hairdresser and art director; and Caitlin Murray, co-owner of the Marfa Book Company.