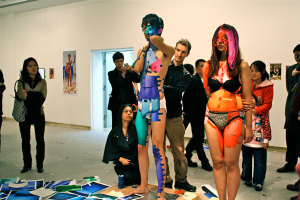 German-born NY artist Oliver Herring is coming to Houston, and Diverseworks Art Space is looking for unpaid "studio assistants" to participate in his performance-based art. Herring will be in residence at DiverseWorks from January 21 through March 7, 2015.
Herring's exhibition, Areas for Action, requires audience participation in chance encounters with mixed media. This means spitting food dye, getting dumped in glitter, becoming a photo sculpture, and more. Fun!
Herring directs and documents short open-ended performances featuring groups of strangers interacting with each another. Herring records these impromptu activities, to reveal the poignancy of strangers exposing their vulnerabilities and embracing trust. Sort of like Hermann Nitsch, but without the blood or the nudity.
Participants are needed from 11:45am – 6pm, Wednesday-Saturday for the four weeks of the show's run: Jan 21-24, and Jan 28-31, Feb. 25-28, and March 4-7.
Contact Taylor Hoblitzell at 713-223-8346 or [email protected] with questions, or to sign up.