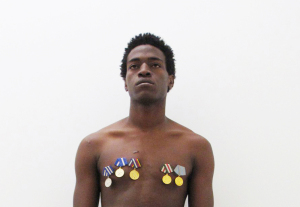 On Feb. 5 UTD's CentralTrak in Dallas will host a moderated panel called "Art, Immigration & Politics." The special guest panelist is Havana native and performance artist Carlos Martiel.
As his work, which is often extreme, "addresses topics of injustice, repression, discrimination, censorship and immigration," we think the discussion will follow this lead.  This event is taking place a few days before a performance by Martiel, also at CentralTrak. One of the organizers of Martiel's time in Dallas is PerformanceSW, which is "a project in support of the proliferation of performance art outside of the mainstream American discourse." Translators will be on hand for this discussion.
Panel: Thursday, February 5, 2015, 8:00 p.m. at CentralTrak, 800 Exposition Ave. Dallas, TX 75226.