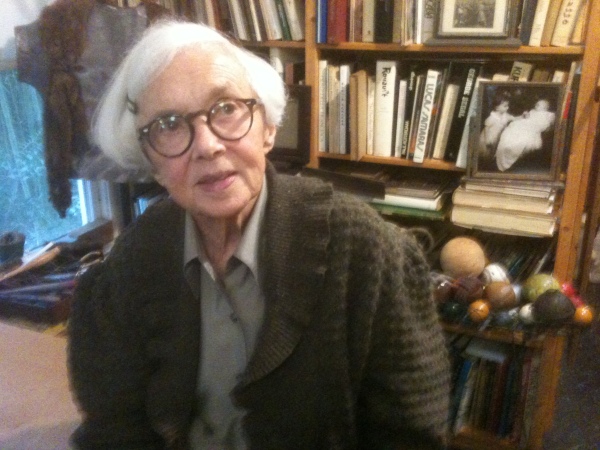 For more than thirty years, the artist Marilyn Lanfear has maintained an active presence in the contemporary art world. In the late 1970s, she was a member of the then-new San Antonio Museum of Modern Art, which was founded as an alternative art institution. Operating in two locations through 1979, SAMOMA filled a need for exhibition opportunities for San Antonio artists at a time when there were few if any options. In the 1980s, Lanfear left San Antonio for a five-year stay in New York City, where she lived in a loft and worked for Bernice Steinbaum Gallery in SoHo. At the time, the gallery's stable included several pioneering women artists, among them Faith Ringgold, and the gallery's feminist bent was simpatico with Lanfear's own political leanings and identity as a woman artist. In 1988, Lanfear returned to San Antonio for a few years before moving to Portland, Oregon to teach college-level studio art. Ten years later, she undertook her final homecoming and settled into a house and studio in San Antonio's River Road district, where she continues to live and work. Still actively exhibiting, Lanfear (now in her 80s) was honored in 2010 by the San Antonio Art League with the Artist of the Year award and, in March 2014, she had a solo exhibition at the Hausmann Millworks. Never one to shy away from participating in the most current cultural phenomena, Lanfear was also a featured speaker in San Antonio's latest Pecha Kucha event.
Lanfear's art is usually viewed as a platform for storytelling, an explanation which she reiterated in her Pecha Kucha talk. Yet Lanfear's oeuvre from the past decade reveals a much deeper and more multilayered content than she herself has acknowledged. While some of these works are still inspired by the artist's family history and do suggest narratives, their broader and more universal appeal can be found in their metaphoric potential as well as in their formal virtuosity. Such qualities are particularly evident in works that result from Lanfear's orchestration of found objects. Interested as much in the history of objects as she is in the stories of people, Lanfear has amassed several collections of things found in thrift shops, antique stores, and flea markets. In the studio, these collections become the raw material for artworks that evolve through an intuitive process of finding creative avenues for their arrangement and presentation.
In responding to several of Lanfear's assemblages, I am reminded of the visual poetry that characterized the 1980s found-object sculptures of Donald Lipski and the duo Kate Ericson and Mel Ziegler. As in the glass works by these artists, Lanfear's Untitled (Stoppers) produces an aesthetic tension that emerges as we recognize that the medium is both fragile and dangerous. The tactility of the stoppers is so seductive that they call out for us to pick them up, yet we know that we can't for fear that we'd never recreate the exact configuration and that we might cut ourselves on the edges of the box. Lanfear's arrangement, which contrasts the organic movement of the pile of stoppers with the geometric linearity of the box, possesses a formal strength achieved through reconciliation of opposites.
Another example of this type of aesthetic fortitude is in Spheres of Influence, where a multicolored grouping of balls appears heavy, as if it should crush its delicate metal stand. And in Pins, composed of antique rolling pins clustered together and propping open a Depression-Era hobo's box, the interplay of the pins' colorful handles, their smooth light wood surfaces, and the carved ornamental patterning of the darker wooden box results in an unexpectedly animated composition.
In other collection sculptures, Lanfear proves herself adept at what I like to call the "inventorying instinct," a concept I've been thinking about since I saw a spectacular exhibition at the Musée d'art Moderne de la Ville de Paris in 2000. Entitled "Voilà: Le monde dans la tête," ("Here it is: the world in your head"), this exhibition was a mammoth survey of works by artists who had collected and reorganized things as if they were cataloging the globe. Examples include On Kawara's date paintings (with accompanying boxes of daily newspapers), Andy Warhol's boxes of memorabilia, Felix Gonzalez-Torres's candy piles, and Fischli and Weiss's rows and rows of slides on a variety of subjects, which were categorized and laid out on light tables.
One of Lanfear's earliest collection works actually marks a point of transition between her story-based efforts and her found-object investigations, in that it still suggests a narrative.  Merle's Cabinet from Linenfold Reliquaries (Profane) Series, from 2001, was inspired by memories of the artist's mother, who schooled Lanfear in conventional household chores such as ironing. For this project, Lanfear designed a cabinet and carved patterns on the door fronts that resemble the kind of curtains that were popular during her childhood years. When the doors open, they reveal four shelves, with the top shelf holding a row of toy irons. In a move that links this work to the current trend for participatory art, Lanfear left the three lower shelves empty, thereby affording the work's owner the option of using them or not.
Some of Lanfear's more recent assemblages are similarly layered with multiple perspectives for viewing and richly textured with potential meanings. Constructed over a four-year period, My Collection of Measuring Devices (2008) is the most ambitious of the collection sculptures, and it contains every type of measuring implement that Lanfear could find. When viewed from above, it resembles a James Peto still-life painting gone wild as well as a densely packed modernist abstraction. Yet when seen from a distance, it takes on an alternate life as a scale-model urban metropolis with a pyramidal metronome at the helm. Collection of Guns in a Box (2010), on the other hand, is a more provocative work in that the objects themselves call attention to a socially relevant issue.  As we ponder the seven toy guns arranged neatly in a row and each a different style, it's inevitable that we think about the prevalence of gun culture in America, and especially in Texas.