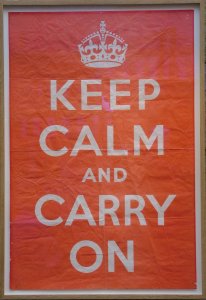 Apparently, in 2000, a 1939 public safety poster from London was found in Northumberland, England. Framed and hung up in the shop of its owner, it attracted a lot of attention — so much so that he began printing and selling them. In 2012 a small stack of the originals appeared on Antiques Road Show and were valued at several thousand pounds. The poster, alerting citizens to the impending bombings of the Luftwaffe, urged and admonished with words that have become ubiquitous since its rediscovery 15 years ago: KEEP CALM. While it is certain that the poster is a kind of standard bearer for some who lived through the bombing or who had relatives who did (though it was never widely distributed), out on the internet and in glossy postage-sucking catalogs it can be yet another object to consume.
But not for long.
Just two weeks ago, it was reported in the Wall Street Journal (Sunday, Jan 3 -4, p. D11), that "Text as Decor" is, as of now, passé. KEEP CALM was even singled out in the article. The paragraph, even though not a public safety announcement, did serve the public and is a warning that the winds of change are blowing. So if you have towels with these words monogrammed on them, I urge you to get them on Craigslist quickly, before they become completely squeezed free of value.
Not that Jeff Wheeler and Maisie Alford care. They are both pretty calm already. And funny thing, it is from many times hanging out in their studio that I am acquainted with that phrase, those two words, or some like them. I was really unaware of how commercially successful this particular ripple in the post-9/11 wave was, but I get why it took off. American flag sales have also been up in the decade-and-a-half since 2001 (and they are 30% cheaper if made overseas).
Regardless of what goes on down at Homeland Security or at the next Big Sale, these artists will just be keepin' on. It is what they do. And Blue Boys keep cropping up. There are four right here in Everybody's Doin' It, Jeff and Maisie's two-person show at Fl!ght in San Antonio.
A large acrylic and pencil on paper piece, Chillin' At The Golden Gavel, hangs near the front door proclaiming Wheeler's version: Please Keep Calm… In his work this three word variation on KEEP CALM is always followed by the three dots of a lingering thought… In the image it hangs in the sky like a pair of Golden Arches, which also appear in the piece, though more as a next-exit afterthought — an image from the road so frequent it becomes invisible. These Golden Arches, from that Scottish internet cafe chain, signal travelers of free access — I've written a bit of this at one and it is indeed convenient. They also serve food.*
The impossible space of Chillin' is lit by three or four suns and reveals a lot of action in a white void, including various perspectives on a flatlander's idealized notion of some green hills that occupy the peripheries, as if the scene is bogged down in a sand storm of white paper. The central image is that of a car, buried to the bottom of its windows. Various hot springs and hot tubs puncture the surface which is otherwise drawn scattershot with the randomness of the road: whooping crane, fire hydrant, flaming deer skull, pepper shaker and retro motel sign. The scene, taken as a whole, feels like a miniature golf course built on white sand or snow, with the eye rolling easily from image to image, being careful not to drop into hot water. On the right edge of the picture, an open window, a hanging light and a pool table next to a chair with a shirt draped over it offer alternating perspectives — like everything else they just fall into the composition as randomly as memory allows. The sparsely rendered, partial interior invites you to step in — it seems to exist just this side of some barrier between it and the other images.
Maisie Alford mixes it up with tableau, paintings, collage, drawing and found photos. It's straight-up laissez-faire — whatever, however and whenever. A rabbit head could be mounted on toppled over praying hands, garnished with dried flowers. Or maybe not. She moves with the un-ambitious and yet so ambitious joy of someone who makes things for the many pleasures of doing so. Ambitious because she works constantly; un-ambitious because these works make no pretense. Images, objects and materials tumble together with a lively serendipity that simply celebrates making things.
The work of these two artists comes directly from when and where they make it: all the time, everywhere, as evidenced by the hundred or so pieces in this show. They routinely search in second hand shops for picture frames and materials, including a lode of photos, ledgers and documents found in 2010, when Jeff had a studio in Slaton, just a few miles southeast of Lubbock, where he and Maisie both reside. This early-to-mid-century trove has served both artists since, providing fodder for wry cutups, such as Maisie's ongoing series, seen here in someone must console these lonesome souls.
Some of what they find comes from numerous road trips as do many of the images. They employ each, the experiences that etch the memory and the junk-shop treasures found along the way, with the same wanton will to combine. Their studio time could be said to be at times a kind of aggregate also — they frequently work simultaneously in the same space, sharing materials, ways, means and grins. They are in a sense documentarians of anything that happens, bound by the randomness of wherever they happen to be, collaborating with the great and small events of any given day.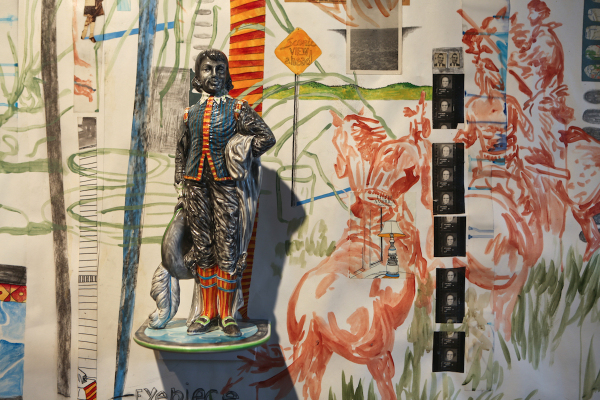 The Blue Boy, Rauschenberg's muse, as western as all git out and the smiley face of the 18th Century, is still going strong after 200+ years. They appear everywhere. And nobody knows who is making them, when mass-production began or when we can expect the market to dry up. Peace.
*My bad. A simple Google search would have revealed that MacDonald's, as it is known, began as a restaurant, apparently one of the most successful in the history of "fast food."
Everybody's Doin' It, Jeff and Maisie's two-person show runs through February 7th at Fl!ght Gallery in San Antonio
Hills Snyder lives in San Antonio but was born and raised in Lubbock. His published writing is collected at U.S. 87, the highway that connects the two.