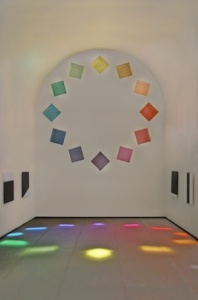 The Blanton Museum of Art at the University of Texas at Austin has just announced the acquisition of a to-be-built Ellsworth Kelly standalone building titled Austin. The stone structure will be 73 x 60 feet ( 2,715 sf) "with luminous colored glass windows, a totemic wood sculpture, and fourteen black-and-white stone panels in marble, all designed by the artist." It will be part of the Blanton's permanent collection. (Seems the University of Texas is getting all the big art these days.)
Kelly has donated the design, "including the building, totem sculpture, interior panels, and colored glass windows." Cost for construction is an estimated $15 million; $7 million has been raised thus far.
Also, UT "has committed $1 million, funded by earnings from the University's Longhorn Network, to create an endowment for the care and conservation of Austin and for the research and study of Kelly's work."
Austin is the only freestanding building Kelly has ever designed.