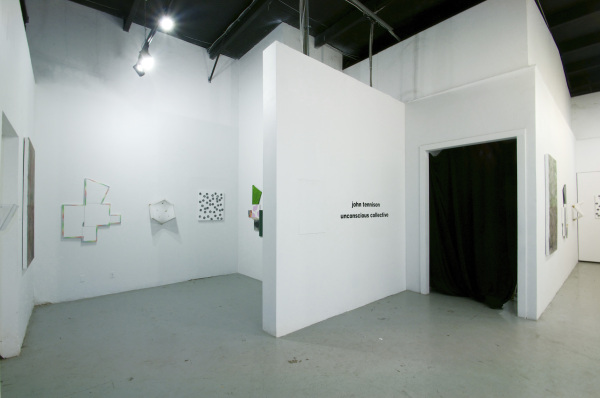 John Tennison's debut solo exhibition of paintings was my first look at ATM Gallery; the physical space has changed a lot since it was Big Medium's junkyard. Eight voting members run ATM, and their curatorial process involves invited proposals. The members are aiming for one to two events per month. ATM's focus isn't specifically visual art; it's instead an undefined approach that includes music and theater programming. I am happy to see some invigorating young talent take on this space; after the closing of so many art spaces in Austin in the last couple of years, perhaps it's a sign of health that shows like Tennison's can exist at a place like ATM.
The 18-piece solo exhibition is practically swirling; Tennison joked that the show could have been called "TMI." I agree. Installed, the work doesn't quite allow the artist step aside and let the viewer take it from there. These pieces beg for some explanation from the artist; this is a show where titles are paramount. The paintings are difficult and formal on one level, but often subliminally playful and visually pleasurable. The pay off here comes from spending the time to consider the titles (or to walk through with the artist) and to delve in.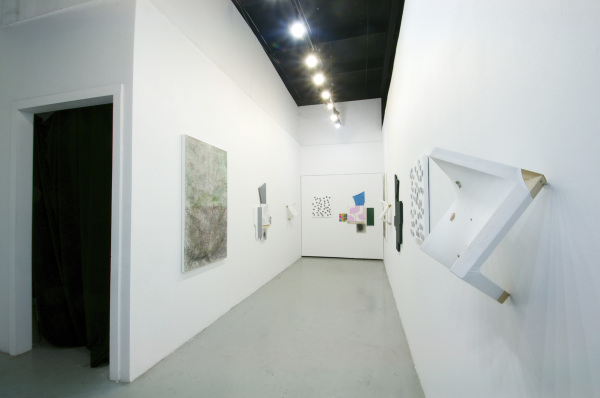 These are sculpturally activated paintings that speak to heavy (though large and small) concepts: semiotics, gravity, human relations, and the artist's personal rituals. It's an encompassing series with multiple mini-series within, tackling the unconscious from a universal scale down to the smallest, internal one. There are a few different types of painting to take you from here to there: handmade buttons adhered to canvas, large lumpy paintings purposely overworked into mud and holes, assembled groupings of small works bolted together, and nylon stretched over partial cubes.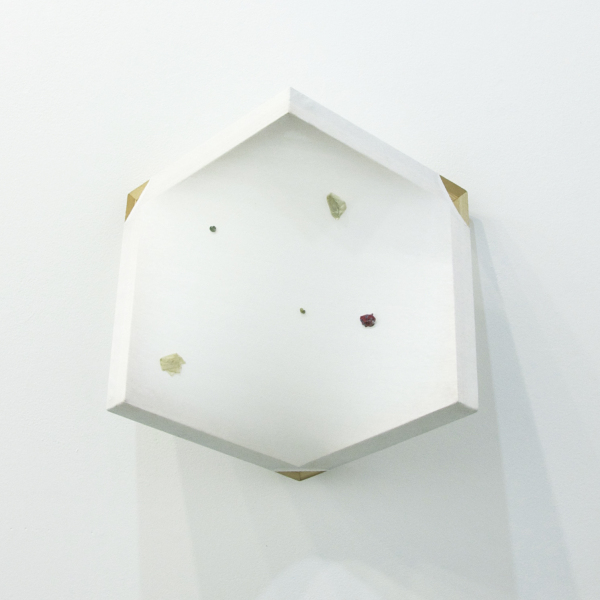 The Untitled (Parenthetical) works, geometrically unconventional and with somewhat exposed frames, are alive with a post-canvas earnestness and are adorned with stuck on little "laundry rocks"— resin soaked bits of paper and plastic left in pockets and developed through an actual full laundry cycle. They speak (somewhat) to machine physics but more immediately they function as curious objects of personal discard. These odd little pieces of garbage point to different kinds of cycles: literally a laundry cycle but also the many daily banal cycles of consumerism.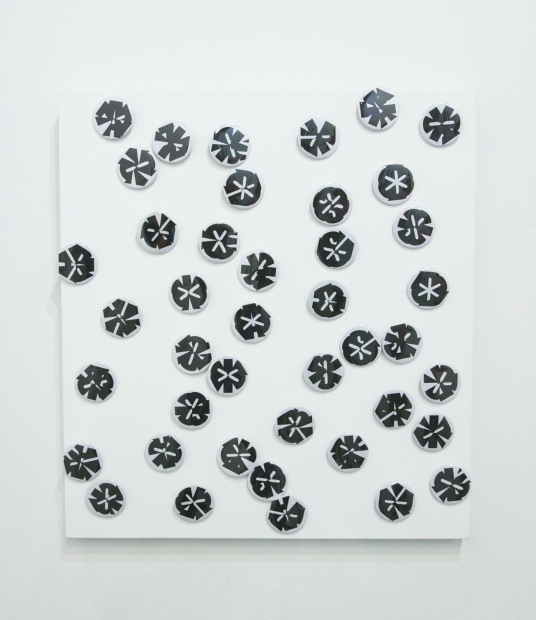 Handmade buttons decorate bright white canvases in Phaneron Drip and Aufhebin'. The buttons are actually visually abstracted-to-the-point-of-destroyed printed names of the artist's friends and family, creating on canvas his own little solar system of people. I like its unlikely dialogue with his piece Cannon Fodder, which evokes a big crude weapon; it's an uneasy assemblage with a painted gaping hole in grayscale.
Superb Lack is a strong work in the series of assembled paintings. Its pure white shapes, bordered by a colorful band, come off like a bright existential void vibrating within a spectrum, to define the edges of Tennison's consciousness. It hits the mark better than the garish Lumber Party, which seems more about an internal gravitational systems than an external one and is perhaps overworked.
The odd-man out in relation to the overall aesthetic of the exhibition is probably the Common Ancestor mini-series. The four paintings retain a classic shape, but with a hilly topography from being layered with heavy paint that's then sanded and scraped away with power tools into delicate patterns. In the end these are, visually at least, unattractive layers of bizarre colors.
Unconscious Collective is about the invisible glue that holds together our minds, relationships, communities, solar systems, and the metaphysical universe. That's gravity for sure. What it means to make work that references so much at once is, for Tennison, an endearing and mixed-success explosion of still-ripening ideas. But the combination of Tennison and ATM feels like, for a young artist and the alternative space, like a step in the right direction.
Through Feb. 7 at ATM Gallery Austin, located at Big Medium: 5305 Bolm Rd. Suite #12, Austin, Texas 78721