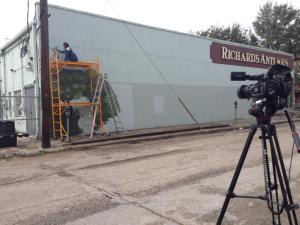 The Houston Zoo has commissioned four prominent Houston Street artists to paint gorilla-themed murals on inner loop building to promote its new 2-acre gorilla environment, set to open on Memorial Day.
The murals are going up now, and will last six months.
Mr. D is painting one  at 2119 Washington Ave; Anat Ronen at Richards Antiques, 3701 Main St (shown beginning at left); Michael Rodriguez, at Buffalo Exchange 2439 Bissonnet; and GONZO247, of aerosol warfare's mural will be at the Downtown Food Park 1311 Leeland.