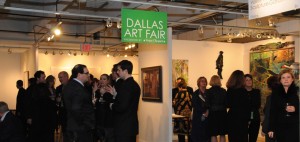 The Dallas Art Fair, entering its seventh year, has released a list of 2015 exhibitors due at its usual Fashion Industry Gallery (f.i.g.) venue starting April 9th. You can read the entire list here.
Given that there were 94 exhibitors in 2014 and 92 this year (and it's not unusual for a few galleries to jump on at the last minute), the fact that 42 are not returning means that the fair organizers are either: 1) not inviting back certain galleries for whatever reason, or 2) doing a bangup job of filling the roster losses with new blood. Probably some of both.
All DFW galleries that were on hand last year are returning save RE Gallery (which we understand is retooling); DFW additions include Zhulong Gallery and Kirk Hopper Fine Art. As for other Texas spaces: Deborah Colton Gallery (Houston) and Dutton (Austin) are not returning this year, which means the only Texas galleries in the 2015 Dallas Art Fair are DFW-based. That's not keeping away other exhibitors from as far afield as Bogota, Helsinki, and Tokyo. And Antwerp!