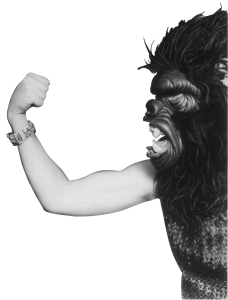 Guerrilla Girls' member "Käthe Kollwitz" (a nom de guerre, n'est pas) will be at Texas Women's University (Denton) to give a talk in the Margo Jones Performance Hall on Feb. 26. Presumably the discussion will focus on the Guerrilla Girls' history (there was, to great effect, a whole gallery devoted to such in the recent 1980s show Urban Theater at the Fort Worth Modern), the cultural shifts the group has seen since its founding in NYC in 1985, and its current status. My guess is she will be wearing the mask.
The lecture is free and open to the public and begins at 7:30. College students, future artists, burgeoning feminists of both sexes and professional and armchair art historians are strongly urged to attend.
Info: Thursday, February 26, 2015 at 7:30 p.m. in Margo Jones Performance Hall / located in the Music Building on Pioneer Circle, Denton Campus TWU. 1100 Oakland St. 76201.
Parking information: http://www.twu.edu/dps/parking_map.asp. Parking available in the lot south of the Fine Arts Building.