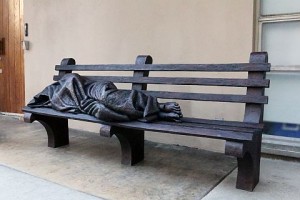 An anonymous gift to Austin's Central Presbyterian Church has led to the upcoming unveiling of a new permanent public sculpture on church property at the corner of 8th and Brazos streets downtown. The sculpture, called "Homeless Jesus," is a life-size bronze of a sleeping cloaked figure with stigmata on both feet. The artist is Canadian sculptor Timothy Schmalz and this is the third edition of the piece (the other two are in North Carolina and Illinois). The model used in making it was blessed by Pope Francis in 2013 in Chicago.
The dedication ceremony is Thursday, February 26 at 9:30 a.m. (the piece is dedicated to the memory of an Austin a couple who long served its homeless community). Whatever the passing public thinks of this public work on private property, the pastor of Central Presbyterian, Reverend Joseph Moore, says this:
"Our church sits three blocks from the State Capital and three blocks from the Austin Resource Center for the Homeless. This statue sits at the intersection between power and powerlessness. Tonight over 2,000 people will sleep on the streets of our great city, and we believe this statue has the potential to inform the ongoing conversation around the issue of affordable housing and chronic homelessness in Austin."
For more info, go here.