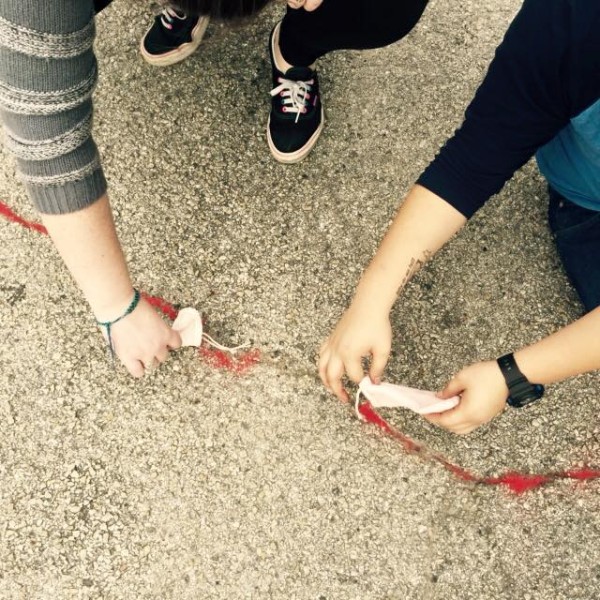 UPDATE 3/9/15: "We are POSTPONING the installation that was scheduled for today due to the weather. You are invited to join the community in pouring sand into the large-scale work this Wednesday, March 11 from 3:00 – 7:00 pm. The installation is located at Caroline St & Dennis St. in Midtown.
On Saturday-Monday, March 7-9 Artist/activist Molly Gochman and a crew of participants will spread red sand into sidewalk cracks in Houston as a reminder of the city's role as a hub of human trafficking. The Red Sand Project invites particpants everywhere to do the same, and share images via #redsandproject on Instagram, Twitter, and Facebook.
Sunday, International Women's Day, the project has official stops in Freedmen's Town, (Genesee St & Andrews St.) from 1-3pm, at 1:00 – 1:30pm; in the Museum District (Bissonnet/Binz & Fannin) from 2-3pm; and at Rodeo Houston (Fannin St & Rodeo MetroRail Stop) from 3:15-4pm. with a convening tonight from 6-8pm at aurora Picture Show. On Monday, March 9 at 3pm there will be a final major installation in Houston at Caroline St. & Dennis St. in Midtown.
In an interview with Emily Lurence of Affect Magazine, Gochman described the project's effects: "When you think about sidewalk cracks, they're overlooked. We just step on them. It made me think about the vulnerable populations that we just turn away from. Red Sand Project is a metaphor for how people can make an impact. [In Miami] people flocked to the exhibit and Tweeted out with the hashtag #RedSandProject. The social campaign caused people — whether they saw the art in person or online — to question its deeper meaning, leading to more people being educated about human trafficking and raising awareness." According to the artist, "Even if people don't know what the land art or sidewalk installations signify, these artistic interventions will stimulate contemplation of a previously ignored surface."